Willis Towers Watson recorded 85 insurtech deals worth $1.42bn announced in the first three months of 2019
Insurance technology investment continues to break records, with the first quarter of 2019 surpassing previous levels, according to the latest report from broking group Willis Towers Watson.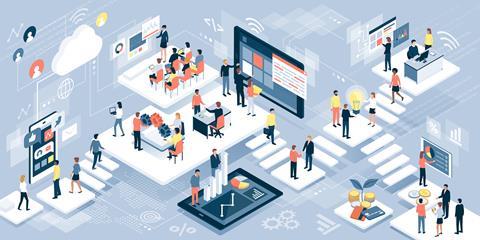 Insurtech investors worldwide reached new bounds in the quarter: executing their highest number of transactions; making the highest number of property and casualty (P&C) deals; and recording the highest volume of Series B and Series C funding rounds in this year's first three months.
There were 85 insurtech deals worth a combined $1.42bn announced in the first quarter of 2019, according to the broker's study.
Deal count increased by 35% over Q4, 2018, although total funding decreased by 11%.
Andrew Johnston, global head of insurtech at reinsurance broker Willis Re, said: "The sheer volume of hopeful insurtech companies and hype is becoming increasingly difficult to rationalise, and one could argue that much of the space is akin to the fable of the emperor's new clothes.
"We are seeing, however, that a number of insurtechs are already adding some genuine value to our industry. We remain pragmatic about where in the value chain we believe this can be achieved," he said.
"We continue to believe that success for any insurtech must follow that bottom-up approach, rather than targeting reinvention from the top down," Johnston added.
Some 54% of deals were outside the US, marking a continuing trend. Deal count in the UK increased by 50%, and in the US by 44%. However, deal count in China fell by 38% this quarter.
Two-thirds of investments were in Seed and Series A rounds, but Q1, 2019 recorded the highest-ever numbers of Series B and C investment rounds, at 12 and 6 respectively, up from nine and three in the previous quarter.
The Bs and Cs reflected "more nascent insurtechs reaching adolescence", Willis Towers Watson said.
At 56 deals, the latest quarter saw the greatest number of P&C transactions since Willis Towers Watson began releasing figures, up 37% from Q4 2018.
"Agile pricing systems inherently recognise that flexibility is needed to meet the unknown future," said Neil Chapman, Willis Towers Watson's global product leader for pricing, product, claims and underwriting, insurance consulting and technology.
"Adopting a more agile approach requires companies to put control of pricing and price changes back into the hands of underwriting teams. The emphasis should be on their ability to change prices and rate algorithms frequently and easily, allowing companies to make rapid adjustments in an ever-moving market," Chapman added.