The reinsurance broker tracked natural catastrophe insured losses of $20bn – 26% lower than the 18-year average of $27bn
Aon has released its Impact Forecasting report of natural catastrophe events for the first half of 2019, revealing that re/insured losses are down on the long-term average.
Nat cat insured losses reached $20bn, some 26% lower than the 18-year average of $27bn, according to the reinsurance broker's "Global Catastrophe Recap: First Half of 2019".
That was broadly in line with economic losses of $73bn, which were 22% lower than the 2000-2018 average of $94bn.
See the pie chart below for a breakdown of economic and insured losses in the year's first half.

Aon noted that these totals are subject to change as losses further develop.
"While the first half of 2019 was not an abnormally costly start to the year for the insurance industry or federal governments around the world, it was notably impactful from a humanitarian perspective," said Steve Bowen, Impact Forecasting director and meteorologist at Aon.
Tropical cyclones and flooding were the deadliest perils of the first two quarters of 2019, having been responsible for at least 1,500 and 1,425 deaths respectively, of the 3,800 or more lives taken by natural disasters during the first six months of 2019.
There were an estimated 163 natural disaster events in the year's first half, below the 18- average of 180 and the median of 182, according to Aon's report.
There were at least 17 separate billion-dollar economic events – led by the US and Asia Pacific (see infographics below) with six events each; Europe, Middle East and Africa (EMEA) with four events, and the Americas with one event.
The first six months were marked by many smaller- and medium-scale disasters, with EMEA recording 50 events, followed by Asia Pacific with 45), some 37 in the US, and 20 in the Americas (excluding the US).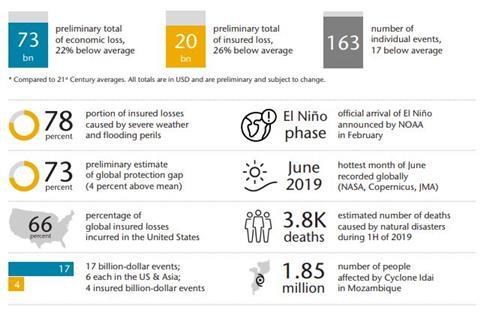 "Numerous record-breaking weather events – including tropical cyclones, precipitation, and extreme temperatures – highlighted the continued vulnerabilities faced by populations in developing, emerging, and developed countries," said Bowen.
"The events of this year already highlight the need to enhance mitigation and resilience measures by modernising infrastructure, minimizing the protection gap, and incorporating a combination of public and private market solutions," he continued.
"This will be even more important as we face more impactful small and large-scale weather and climate-enhanced events in the future," Bowen added.