A government minister's speech at SIRC 2019 emphasised three issuances so far, encouraging more Asian cat bond business to come to the Southeast Asian city-state
Singapore continues to position itself as a base for Asian insurance linked securities (ILS) business, according to Indranee Rajah, second minister for finance and education in Singapore's government.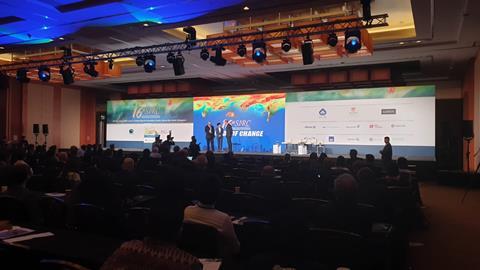 Singapore has played host to three catastrophe bonds since IAG's "Orchard ILS" launched earlier this year.
"Asia is catching up and is now in a good position to develop its own ILS market. Demand for ILS has grown significantly over the past few years," Rajah said.
The Monetary Authority of Singapore has a "fast track regime" allowing issuance "within eight weeks of application", the government minister said, emphasising the importance for a quick regulatory process for cat bonds.
She called ILS instruments "an efficient…alternative to traditional reinsurance", with 2019 seeing new sponsors and a broader spectrum of users and investors.
Asia is one of the hardest hit regions by climate change, and capital markets ILS investors' interest in the region's natural catastrophe exposure is "fast picking up", according to the minister.
Natural catastrophe events in Asia-Pacific have increased from an annual average of 44 in the 1970s to 144 in 2018, she noted, while the related economic losses for the region in the same period have risen from an annual average of $5bn to $89bn.
Rajah said Singapore is working closely with ASEAN and the re/insurance sector to mitigate the impact of climate risk on the region's economic and social development, primarily through the ASEAN Disaster Risk Financing and Insurance Programme (ADRFI) and Southeast Asia Disaster Risk Insurance Facility (SEADRIF).
The insured portion of catastrophe losses is 24% globally, but just 9% in Asia, she highlighted.
Rajah also noted the increased political risks facing Asia, including creeping protectionism, and pressure against multilateralism, along with major protest movements, such as those in Hong Kong.
"Asia's infrastructure requirements stand at over $1.7trn a year to 2030, but investors remain cautious investing in long-term projects, particularly in new pastures where the risks are starker due to unfamiliarity," she said.
She announced two new lines of business – political violence and political risk – have been added to the Belt & Road Initiative Insurance Consortium (BRI) of Chinese and Singaporean insurers set up in 2017.
"China Re and Chaucer have come together with Singapore-based Lloyd's syndicates and insurers to establish a political violence facility with an initial capacity of $250m to insure against risks of political violence in countries along the BRI," Rajah said.
"To support the Asian infrastructure ecosystem in Singapore and the BRI Insurance Consortium, 10 Singapore-based political risk insurers have come together to establish a political risk insurance facility with a total insurance capacity of $700m.
"Together with the other two existing lines of business coordinated by China Re, namely, construction all risk and project cargo, these facilities will put the Singapore insurance market at the forefront of providing a one-stop solution for infrastructure projects, including the BRI," she added.