Following a staggering run of natural catastrophes, the industry has been awaiting the 1 April renewals with interest. While rates on a local level have seen some rises, high levels of reinsurance capital are suppressing a wider hardening
Rarely have the 1 April renewals, while important, been lavished with such attention. This year, however, all eyes were on the outcome.
Most Japanese reinsurance policies renew on 1 April, and as the date came less than a month after the devastating magnitude 9 Tohoku earthquake in Japan, the market wanted to see how the event would affect the renewals process and, where new terms were agreed, how it affected pricing.
Also, as several other important lines and territories renew business on 1 April, the outcome gave observers and participants a first look at how the market responded to the string of catastrophe losses that has been experienced so far in 2011.
If the market was expecting disruption and local rate hardening, it would not be disappointed. According to the renewals report from reinsurance broker Aon Benfield, the process in Japan was interrupted, and mutual companies have typically been able to secure three-month renewal extensions on 2010 terms. The broker added that there had also been late placements in India as a result of the Japanese earthquake.
Local hikes
Not surprisingly, Japanese cedants saw their catastrophe rates rise where business was renewed. There was also rate hardening in Japan. According to Aon Benfield, Japanese typhoon rates increased by 5% and 10%, and earthquake rates were up by between 25% and 50%.Other brokers' renewal reports supported this view. Guy Carpenter said Japanese earthquake rates increased by between 15% and 25% depending on individual circumstances. According to Willis Re, Japan wind and flood rates increased by between 4% and 10%, while earthquake rates increased by between 20% and 50%.
There were also rate increases in Australia and New Zealand on the back of both this year's and last year's losses. Guy Carpenter's report said it had detected rate increases, but said these were offset in part by the introduction of annual aggregate deductibles and higher retentions. The broker added that the forthcoming 1 June and 1 July renewals would give a clearer picture of the impact of the last 12 months' losses.
There has also been some indication of a hardening in retrocession, of which some business renews on 1 April. Aon Benfield said retro pricing at 1 January was down by between 5% and 7.5%. Since then, it said retro players had all responded differently to the uncertainty surrounding the Japan earthquake losses, resulting in a price change range from flat to an increase of 20%. The broker said it expects a more uniform response from retro players as the loss becomes clearer.
So some response to the recent events, then. But if the industry was seeking evidence of a widespread turn in the global reinsurance prices following the recent catastrophes, the 1 April renewals would have left it wanting. Aon Benfield reported that, in the USA, despite the release of Risk Management Solutions' new windstorm model, property-catastrophe decreases were seen similar to the 5%-10% declines observed at 1 January.
"It is not clear whether there will be a decisive upswing or a continued diminishing of rates on line. But we have reached a point where the sector is pausing for thought – we are at a point of reflection," says Guy Carpenter global head of business intelligence David Flandro. He adds that the effects of the events so far in 2011 are still filtering through into the 1 April renewals picture.
"The situation remains fluid and the effect of the Japanese earthquake on the sector is still being determined," Flandro says. "We continue to have data points coming in."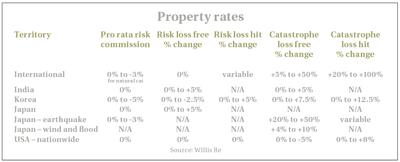 The capital position
Part of the reason for the relative lack of price movements globally is that the industry still has excess capital. Willis Re estimates that natural catastrophes have resulted in insured losses of $60bn over the past 12 months, with between $35bn and $42bn ending up in the reinsurance market. But Aon Benfield estimates that there is around $470bn of capital involved in reinsurance.
Guy Carpenter has a smaller estimate of between $160bn and $175bn, although this is what the firm describes as 'dedicated' reinsurance capital, and so excludes that held by insurers that also write reinsurance, or any capital waiting in the wings to be deployed in the right conditions.
"From last autumn through to 1 January, we estimated that that figure [$160bn-$175bn] was about $20bn higher than was necessary, given risks assumed," Flandro says. "Post-event, we believe that excess capital position has diminished somewhat, and that has implications for the sector."
There are indications that market sentiment is starting to change as a result of the losses. In April, Bermudian (re)insurer Alterra launched the first sidecar of the year, capitalised at $200m.
However, Flandro says that global changes in response to the Japan earthquake in particular are only evident at the fringes so far. "We are seeing pockets of capacity coming into the market, and some underwriters changing their behaviour at the fringes, but at the moment we are not seeing a sea change," he says.
"This is not a post-Katrina world where we had upwards of $60bn in insured losses without an excess capital position, where rates online went up between 20% and 30% and we saw $30bn to $35bn of capital flood into the market. It is not even close." GR