As 2010 comes to a close, Lauren Gow reviews the many lows of the first half of the year, the relative highs of the second and the handful of near-misses (can anyone say Eyjafjallajökull?)
January
January 2010 must have felt like waking up late for work on a dreary morning for the global reinsurance industry. The 1 January renewals were late to start and late to finish, and the year began with bad weather in Europe and the UK, and grim prospects for the 12 months ahead.
While prices were still risk adequate in January, there was a definite sinking feeling: high levels of capitalisation – thanks to good underwriting performance, a lack of natural catastrophes in 2009 and improving investment markets – coupled with continued softening in the primary market, put further downward pressure on already falling reinsurance rates.
But January was not all doom and gloom. For many it heralded a new beginning. New York governor David Paterson announced his intention to establish the New York Insurance Exchange, which would bring buyers and sellers of complex commercial insurance together in an operation akin to Lloyd's of London.
In addition, (re)insurance group XL Capital decided to change its name to XL Group and redomicile to Ireland from the Cayman Islands.
Treaty retrocession was back on the agenda with the entry into the market of Ceres Re – a Lloyd's retro underwriter funded principally by German reinsurer Munich Re. Meanwhile, life insurers Sony Life and Aegon breathed new life into the Bermuda reinsurance market with a joint start-up named SA Reinsurance.
February
February brought good fortune, with record full-year 2009 results from reinsurers. Bermudian reinsurer Endurance's full-year profits soared 444% to $536m from $98.6m in 2008. Munich Re's full-year profits rose 38% to €2.56bn ($3.49bn), while Swiss Re returned to profit following $933m of losses in 2008.
But the end of February brought devastating losses, as Windstorm Xynthia blitzed its way across Europe. Forty-five people were killed and widespread damage was reported in western and northern France, Belgium and northern Germany. Initial loss estimates suggested (re)insurers could face over €1bn in costs.
Then, on 27 February, Chile experienced an 8.8 magnitude quake, which killed 800 people and destroyed 1.5 million homes. Earthquake coverage is widespread in Chile, with 90% of property insurance policies carrying earthquake cover. Initial estimates put insured losses at over €2bn.

March
The industry got a better understanding of the losses in March as more accurate estimates placed Windstorm Xynthia's damage bill at €1.28bn and Chile's earthquake bill between €2bn and €8bn. Aspen reported that it could face up to $115m in first-quarter catastrophe losses; Arch faced $65m; and SCOR said its combined catastrophe losses were likely to hit €157m.
In what would become the merger of 2010, Bermudian reinsurers Max Capital and Harbor Point revealed their plans to join forces and form Alterra, which the new board of directors called a "complementary merger of equals".
Other reinsurers spent March spring cleaning, as US insurance group AIG sold its 13.8% share in Transatlantic Re. Meanwhile, Flagstone Re proposed a shift to Luxembourg from Bermuda.
April
A dark cloud of ash settled over Europe in April after an eruption from Iceland's Eyjafjallajökull volcano. In a near miss for reinsurers, the eruption had limited impact on the industry, despite widespread global air traffic shutdowns, because affected countries closed their airspace to deal with the ash, meaning no accidents or losses.
A 7.2 magnitude earthquake hit Mexico, killing two and injuring 200 people. Once again, reinsurers received a reprieve, with Aon Benfield estimating that insured losses were around $300m.
Yet more bad news for reinsurers came as the Deepwater Horizon oilrig in the Gulf of Mexico exploded, killing 11 rig workers and injuring 17 others. Latest estimates put the amount of crude oil released into the ocean at 185 million gallons. The rig was owned by Transocean, installed by Halliburton Energy Services and leased by BP.
Despite BP being self-insured with its own captive, Jupiter, some initial estimates placed the cost to the (re)insurance industry at $3.5bn. It is expected to push up marine and energy insurance and reinsurance rates.
Property catastrophe reinsurance rates continued to soften in April renewals season, reaffirming what the industry had feared at the start of the year.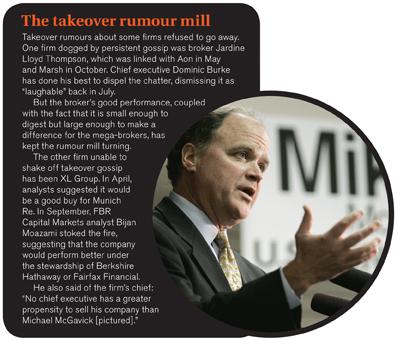 May
Aviation reinsurers suffered their first loss for the financial year in May, following an Afriqiyah Airways Airbus A330 crash in Libya that killed more than 100 people. Catlin was the lead insurer for the commercial jet while broker Aon placed the cover.
June
Staff cuts hit in June, with news of up to 50 jobs to be lost following Arthur J Gallagher's takeover of First City. The pool of employees facing redundancy included some only recently hired by AJG.
Amlin poached a team from Swiss Re to set up its own reinsurance arm in Switzerland, while billionaire Warren Buffett went shopping in India for a majority stake in a state-owned general insurance company.
Devastating floods hit southern China in mid-June, following a torrential rainstorm that caused $7.8bn of economic losses, according to Aon Benfield.
July
Regulation issues took the spotlight in July.
The newly elected UK coalition government took the axe to the FSA, with plans to shift its regulatory power to the Bank of England. Chancellor of the Exchequer George Osborne said the financial watchdog had failed "spectacularly".
Aon shone a light through the Solvency II gloom by claiming the directive would boost reinsurance demand because of its efficiency as a form of capital.
The battle over the Neal Bill, which would tax premium outflows from the United States, escalated, with German ambassador to the USA Klaus Scharioth joining the European insurance and reinsurance federation, the CEA, in expressing concerns about the proposals.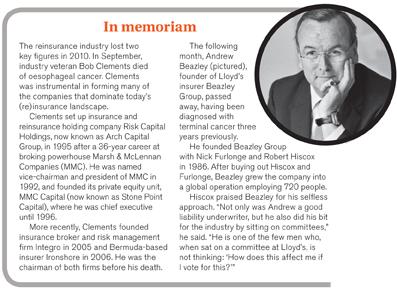 August
August brought with it Glacier Re's decision to go into run-off, less than six years after its launch. The move was prompted by its private equity owners' frustration at the depressed state of reinsurance net asset values, according to analysts.
Reinsurers' first-half results bore the scars of the catastrophe losses in the first two quarters of the year. Those with a heavy focus on catastrophe business were hardest hit, with companies such as PartnerRe, Flagstone Re and Validus posting falling profits and rising combined ratios.
September
September opened with a 7.1 magnitude earthquake hitting New Zealand. Risk modelling firm Eqecat estimated total insured damage would be between $1.5bn and $2.5bn, and total economic damage would reach between $2.5bn and $3.5bn.
But, even when combined with the first-half losses, this was not enough to turn the market. The industry's annual visit to Monte Carlo was a tale of excess – but not the usual kind. Much discussion involved reinsurers' excess capital and how best it should be spent.
Turning to the perennial Monte Carlo subject of rates, the consensus at the event was that prices would continue to erode outside catastrophe-hit areas in the absence of a major event.
Also in this month, reinsurance group Endurance acquired a portion of Swiss reinsurer Glacier Re's international and US property catastrophe and global specialty reinsurance business through a quota share treaty and renewal rights purchase agreement.
Reports also emerged that former AIA finance boss Steve Roder was seeking up to $1bn capital to start a Hong Kong-based reinsurer. The reports said the venture would be run by former Swiss Re China chief executive Franz Josef Hahn, with Roder as finance chief and former White Mountains Re global risk officer Eckart Roth as chief underwriting officer.
October
As one Lloyd's insurer left Bermuda's shores in October, another arrived. Amlin completed its re-domestication from Bermuda to Switzerland, while the management of US commercial property insurer ICAT Holdings formed Paraline Group, a Bermuda-based (re)insurer underwriting international business through Lloyd's.
At the annual Baden-Baden meeting, the industry briefly considered the importance of domicile at the symposium that precedes the event, before ploughing headlong into serious renewals discussions. The event confirmed what Monte Carlo had suggested – that the only way for rates was down.
But the mood remained upbeat, with some reinsurers determined to focus on the positives.
November
November started as October ended – with reinsurers revealing the extent to which the heavy first-half losses had been diluted by a benign third quarter. There was the usual mixed bag: some catastrophe-focused firms suffered sharp drops in nine-month profit – such as Everest Re, Montpelier Re and PartnerRe – while others – such as Axis – posted much stronger results. However, most managed to boost shareholders' equity, and share buy-backs continued apace.
December
The reinsurance market entered December stronger and even better capitalised than before. The bad news, however, is that this strength does not bode well for rates. But the good news is that, given the lack of events, renewals are progressing ahead of schedule, according to some industry chiefs.
While the industry may face many of the same challenges at the beginning of 2011 as it did at the start of the previous year, at least it will not have to deal with the hangover of missed deadlines.
The year in people moves
The year 2010 was a busy one for changes at the top. Here is Global Reinsurance's quick guide to the most important moves.
February
Swiss Re's former chief financial officer John Fitzpatrick joins Bermudian reinsurer Validus's board of directors
Bermudian run-off reinsurer Alea names Jeff Rosenthal as its new chief executive, replacing Mark Cloutier.
Endurance's founding chief executive Ken LeStrange steps down and is replaced by David Cash.
PartnerRe Global chairman Bruno Meyenhofer retires.
April
Willis Capital Markets & Advisory appoints Swiss Re Capital Markets' Bill Dubinsky as head of insurance-linked securities.
Mark Byrne, co-founder of Flagstone Reinsurance Holdings, steps down as executive chairman, leaving the running of the company to fellow co-founder and chief executive David Brown.
Former Wachovia chief financial officer Irene Esteves
is appointed chief financial officer at XL Capital.
Don Kramer, founder and chief executive of 'class of 2005' reinsurance group Ariel Holdings, is succeeded by the company's president, George Rivaz.
May
Angelo Guagliano, president and chief executive of the newly formed Bermuda-based Alterra Insurance, announces his retirement.
PartnerRe chief executive Patrick Thiele reveals his intention to step down at year-end. PartnerRe Global chief executive Costas Miranthis is appointed as his successor and is promoted to group chief operating officer.
July
Changes at the top of PartnerRe spark a string of people moves: Emmanuel Clarke is named chief executive of PartnerRe Global to fill the space left by Costas Miranthis, Bill Babcock succeeds outgoing chief financial officer Albert Benchimol, and Marvin Pestcoe assumes Benchimol's other role as chief executive of PartnerRe Capital Markets.
September
Broking group Willis hires former AIG chief executive Martin Sullivan as deputy chairman, and chairman and chief executive of a new business unit, Willis Global Solutions.
October
Swiss Re overhauls its management team. Key changes included replacing outgoing chief risk officer Raj Singh with former ABN AMRO executive David Cole, and naming former Munich Re supervisory board member Thomas Wellauer as chief operating officer.
US life reinsurer RGA reorganises its structure around three business units and promotes Paul Schuster, Paul Nitsou, Gary Comerford and Mark Showers.
Everest Re chief operating officer and chief executive-elect Ralph Jones quits unexpectedly, forcing current chief Joseph Taranto to delay his retirement until 31 December 2012.
November
Reinsurance broker Guy Carpenter poaches Jim Summers, head of rival firm Cooper Gay's Lloyd's broking unit, to head its global marine and energy division.
Aon chief operating officer and former Aon Benfield chief executive Andrew Appel quits the firm.