Catastrophes, disasters and scandals; this year has been nothing if not tumultuous. How has the industry weathered the storm?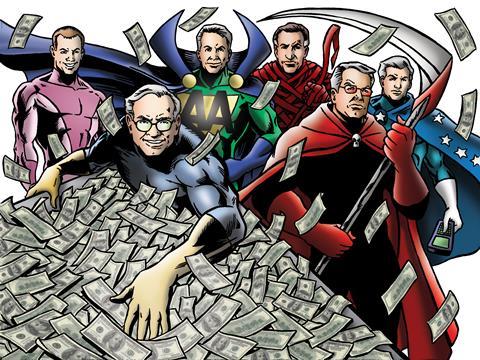 This is part one of our review of the year. Click on 'Related articles', right, to read the rest of our look back at 2011.
This has been a year of haves and have-nots: those who have bought or been bought, and those who have not. Those who have been hit hard by natural catastrophes and those who have not. Those who have predicted widespread rate rises and those who have (correctly) not. But it's also been all about the people who make the industry what it is.
From the shock simultaneous departures of chief executives Brendan McManus and David Margrett from Willis, to a sad farewell for Ken LeStrange, who stepped down as Endurance chairman. From the Guy Carpenter management reshuffle that saw Peter Zaffino trade reinsurance for insurance, to the appointment of Hammerson's John Nelson as Lloyd's chairman, it has been a year of big, bold and shocking moves.
Presenting Global Reinsurance's heroes and villains:
Hero: Warren Buffett
Chief executive, Berkshire Hathaway
Feat: Buffett saved Bank of America with a $5bn investment from his bathtub
Villain: Richard Neal
US representative
Misdeed: Neal reintroduced the HR 3424 bill, aimed at closing a tax loophole and forcing foreign reinsurers to pay more US tax
Hero: Stefan Lippe
Chief executive, Swiss Re
Feat: Lippe won back his company's AA- rating
Villain: Ed Noonan
Chief executive, Validus
Misdeed: He can attempt to scuttle a deal at the last minute - and succeed
Hero: Torsten Oletzky
Chief executive, Ergo
Feat: He arranged for a donation of €83,000 ($113,000) on behalf of Ergo to a women's shelter to make up for the orgy scandal
Villain: Michel Barnier
European commissioner for internal markets
Misdeed: He is responsible for the implementation of Solvency II and for it being pushed back even further
Finally, it seems fitting to honour a few of the industry's finest in our inaugural Monty Awards. And the winners are:
Scarlet Pimpernel Award
John Berger may be planning a comeback with Third Point, but he has been a noticeable absence from this year's festivities.
Battering Ram Award
Pat Ryan, for running the only broker to break down Lloyd's defences by buying Jubilee.
Blast from the Past Award
After disappearing off the radar in 2009 following the IPC sale to Validus, Jim Bryce has resurfaced out of the blue with a new venture, Aliseo Re.