After an "elevated, yet manageable catastrophe loss year", according to Aon, some 64% of global insured losses incurred in the US last year
2018's natural disasters cost the insurance sector $90bn, according to Aon, out of $225bn economic damage.
Almost all of that came from extreme weather, $215bn of the economic cost and $89bn of the insurance pay out.
All of this made 2018 the fourth heaviest catastrophe loss year on record, and when combined with 2017, at $237bn, the costliest back-to-back years for public and private insurers on record.
With $595bn of global reinsurance capital, the insurance industry is "in position to handle high volume of claims payouts", Aon said, in an "elevated, yet manageable catastrophe loss year".
A majority, some 64%, of 2018's global insured losses incurred in the US, the reinsurance broker observed.
This January, multiple US winter storms and extreme cold led to 45 fatalities and a billion-dollar economic cost.
A wind chill temperature of -54°C was recorded in the US Midwest in late January following an extreme outbreak of Arctic air.
Australia recorded its hottest January on record, at 30°C, since data began being kept in 1910. Aon noted that below-normal precipitation "only enhanced the ongoing severe drought".
At the same time, Northern Queensland was hit by severe flooding. Aon cited the Insurance Council of Australia figures for more than 6,525 claims with payouts nearing AUD80m ($57m), although this figure was expected to rise.
"While there was much focus on multiple winter storms and extreme cold via the Polar Vortex in the United States, it allowed an opportunity to remind that weather is local," said Michal Lörinc, catastrophe analyst at Aon's Impact Forecasting division.
"Australia, for example, experienced the opposite in the form of record-breaking heat," Lörinc said.
"In fact, January 2019 was proclaimed the hottest month on record for the country. Shifts in the behaviour of the jet stream and other synoptic features can lead to more unusual and extreme weather phenomena," he added.
Below is a table of the top ten global insured loss events of 2018.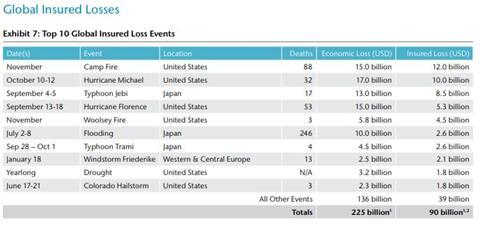 Here is a map of the top insured loss events last year, globally.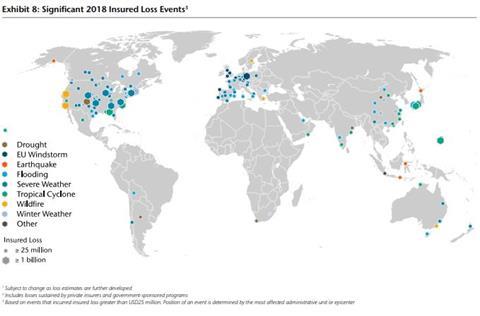 GR is gearing up for the Dubai World Insurance Congress (DWIC) 2019 to be held 27-28 February, co-hosted with the Dubai International Financial Centre.
Expect more Middle East online content between now and then, and more web content and print dailies published live at DWIC.
Click here to find out more about DWIC, and to register yourself for the event.