How does Chaucer find the confidence to remain independent while being able to weather big losses? The secrets include an investments overhaul, a sure hand with price comparison websites and a lot of positive thinking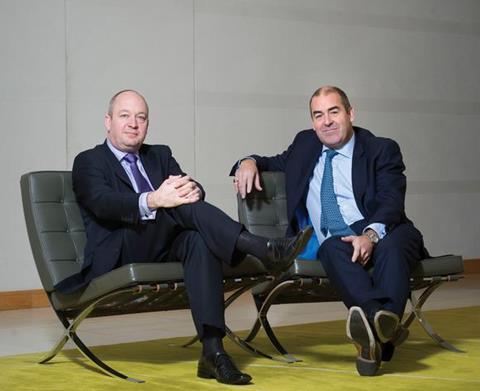 "I'm an optimist," Chaucer chief executive Bob Stuchbery says, breaking into a broad grin. "You've got to be as a West Ham supporter."
Chaucer has had an equally eventful time in recent years to Stuchbury's chosen relegation-battling football team. Mysterious Russian private equity outfits snapping up shares, dangerous flirtations with hedge funds and fighting off larger Lloyd's predators – no wonder Chaucer has found itself so frequently in the headlines.
Stuchbery has thoughts to share on all of this, but first he is here to talk about his ambitions for the (re)insurer. A key player in the firm's management buy-out 12 years ago, he was chief underwriting officer until he took over as chief executive following Ewen Gilmour's retirement on 1 January 2010. He clearly relishes this opportunity to define the future of the company he loves.
Market watchers have noted Stuchbery as sharp and assured. A source says: "As an underwriter, he's had his ups and downs, like the rest of Lloyd's. I would say he's a better manager than underwriter. Chaucer did well to remain independent. He's confident and now he's got his chance, so we'll see how he does."
Three-year plan
Stuchbery and his board last month announced an ambitious strategy for 2011-2014. David Mead, who has been appointed chief operating officer of the company's main subsidiary, Chaucer Syndicates, has responsibility for implementing the plan.
The strategy aims for a return on capital that is consistently among the best in Lloyd's. Highlights include cutting the combined operating ratio by 2% and delivering a post-tax cross-cycle return on equity in excess of 12%.
To achieve this, Chaucer will withdraw from less profitable lines, such as US direct and facultative, while expanding in the lucrative but volatile area of property catastrophe treaty reinsurance. Chaucer will establish a global energy business targeting £300m ($466.5m) capacity at the peak of the energy cycle.
In the UK, Chaucer will build up its motor book by increasing its presence on price comparison websites from two to four of the major brands, targeting Moneysupermarket and Comparethemarket.
Although price comparison sites, also known as aggregators, have proved tough for insurers, Stuchbery argues that Chaucer is different. He stresses that the company's combined operating ratio in motor is on target for a respectable 100% by the end of the year. Forty-five percent of its business will come direct from aggregators and 55% via brokers. The hardening motor market will also help.
"It's important that when you're on aggregators, you are aware of that distribution method. It's sold on price, so you've got to make sure you are getting the right price for the product. We are converting well in the areas we have chosen. Over a period of time, we've used the aggregators we are already on to make sure our profit is at the right level."
Stuchbery remains positive on energy, despite analysts' pessimism over growth as a result of falling demand for deepwater drilling following the BP oil spill disaster.
"There's always going to be a demand for energy and oil," Stuchbery argues. "People will be looking at renewables, and we are strong in nuclear, having a separate syndicate to underwrite the class. There will be a continuing demand for insurance related to energy exposures – they will just change over a period of time.
"I think following Deepwater Horizon there will be changes, and it will be more difficult to get licences to drill, but that's a function of an improved risk for insurers as well."
Chaucer's plans played a large part in tempting chief operating officer Mead to the company from broking group Willis, where he was managing director of group operations.
"One of the key reasons for joining Chaucer was the strategy for growth," he says. "The areas around motor and energy mean there are some very exciting opportunities to make sure we have a growth platform to support that. In the process, we drive operational efficiencies so that we can grow without laying down consummative amounts of costs."
Fighting for independence
Stuchbery says the strategy proves that the board is intent on creating a flourishing standalone business. Chaucer has been fiercely protective of its independence, fighting off a £221m bid from Brit in June last year. Only a few months before the Brit bid, Novae walked away from merger talks with Chaucer. And with Russian private equity firm Pamplona seemingly unable to expand on its 9.9% stake, it looks like the board will get its wish.
Stuchbery says: "We went through a process last year where a number of companies publicly disclosed an interest in an acquisition of our merger with Chaucer. That process was closed down last summer and we have concentrated on developing the business since.
"I think our strategy shows that we are focused on developing Chaucer as a standalone independent business. We are a publicly traded company and, as such, we are in exactly the same position as every other publicly traded company: if someone is interested in talking, we will listen. "
Investments rethink
The reason there is such interest in Chaucer is that it is in a similar bracket to Hardy or broker JLT – small enough to be absorbed but big enough to make a difference.
Perhaps the acquisition-hungry rivals thought they could pick off Chaucer for a bargain price after it posted a £26.2m pre-tax loss in 2008, driven by an investment loss of £71m. The insurer –like many other companies in the heady days before the financial crisis – had gambled on higher returns from riskier investments by investing in equities and letting hedge funds select risks.
But Chaucer has learned its lesson. The investment portfolio is now a much safer mix of government bonds and cash. "It's public knowledge that we had what some people regard as a trip-up in 2008, which was largely driven by the investment results," Stuchbery says.
"We are a business that, relative to its market cap, has a large investment fund. In response to the unsatisfactory results we experienced in 2008, we repositioned our investment strategy to take a much more conservative approach."
Indeed, the conservative investment portfolio, which returned £17.7m for the half year, gave Chaucer a more stable platform to post half-year profits despite encountering some large losses.
The Chilean earthquake, Deepwater Horizon losses and terrorism in Bangkok were three big factors in Chaucer posting a first-half 2010 underwriting loss of £16.4m, but Stuchbery feels the losses were in line with the market.
"The first six months were very difficult, but over the year it has balanced itself out," he says.
One might think the stress and strain would wear him down, but he shows no loss of enthusiasm. "I enjoy what we do. We've built a business and we currently employ more than 700 people. It's a vibrant business and a good place to work," he says.
If football fan Stuchbery is to take Chaucer into the Champions League of insurers, he'll need that optimism. GR