RMS chief Shah urges rival to make modelled output available to new system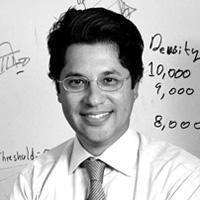 Risk modelling firm AIR Worldwide will not allow its models or model output to link with rival modeller RMS's new risk and exposure management platform, RMS(one).
RMS unveiled the new platform at its Exceedance 2013 client conference last week. The new system, which will be available from April 2014, will host third-party models and analytics as well as RMS's own.
Rival risk modeller Eqecat has agreed to share exposure data formats with RMS(one). And three other modellers – Risk Frontiers, ERN and JBA Risk Management – will allow their models to run natively within RMS(one).
However, AIR senior vice-president Bill Churney said in a statement to GR: "AIR acknowledges RMS's efforts to propose new solutions for catastrophe risk management; but AIR models will not be allowed to run on the RMS platform."
He added: "The healthy competition that has existed between AIR and RMS for more than two decades has been good news for the industry and for innovation. Therefore, in the interest of nurturing the innovation that has benefitted all of us, we will not allow our intellectual property — our models and model output — to be deployed on a platform or cloud that is operationally controlled by a competitor."
Churney said that AIR is "in the middle of the most ambitious programme of model development in the industry". It launched its own risk and exposure management platform, Touchstone, in January.
Speaking to GR last week at Exceedance 2013, RMS chief executive Hemant Shah urged AIR to allow its model output to be used with RMS(one).
He said: "RMS(one) has been designed to be able to take in the output of models like AIR's and we would encourage AIR to listen to its clients and make the output available to them."
However, he added: "AIR needs to make its own decisions about how it wants to compete and serve its customers."
Shah is expecting more interest from other third party modelling in linking to RMS(one). "Over time, more and more cat modellers will see that we are serious and sincere about opening our environment to be welcoming to all.
"Each will make a decision based on their own calculus about how they want to add value and whether to participate in that ecosystem or not."
He added that what happens will be ultimately driven by customers. "It is up the marketplace to vote on how it wants to see various cat models delivered," he said.