As ILS funds continue to demonstrate an interest to get closer to the risk, questions around whether this capital is here to stay cease to be relevant
Record catastrophe losses in 2017 were perhaps the severest test yet of institutional investors' commitment to insurance-linked securities. But not only have investors renewed - and increased - their appetite for insurance and reinsurance risk, many funds are developing their own analytical capabilities to enable them to get closer to the risk, experts say.
The series of catastrophic hurricanes that caused devastation and widespread insurance and reinsurance losses in parts of the United States and Caribbean last year, have not dented investors' appetite for insurance-linked securities, experts note.
According to Aon Benfield's recent market outlook report, alternative capital in the reinsurance sector increased in 2017 to $89billion.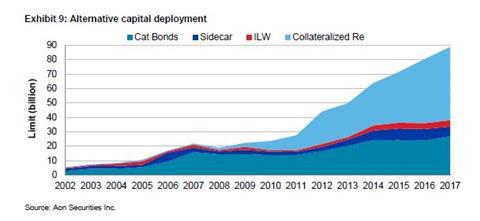 And in its First View Report in January, Willis Re noted that "by the middle of Q4, it became apparent that the ILS market was comfortably weathering its first major test for a number of funds, with investors prepared to recapitalise to make good both lost and illiquid, trapped capital."
Indeed, in a separate review of ILS trends in Q1 2018, Willis Towers Watson Securities observed investors have now "fully reloaded" and are now putting capital to work in the lead-up to the crucial 6/1 Florida. "Some reinsurers and pundits have told anyone who would listen that rising interest rates would cause ILS to disappear. This has proved wrong," the report said.
The market should no longer think of ILS capital as an "alternative" source of capital," said Rupert Swallow, chief executive of Capsicum Re.
Funds were able to recapitalize after the hurricane losses of 2017 and deliver their product "seamlessly" at the January 1 renewal, he noted. "The next test for them is to see how they react in the event of another high-severity loss period in 2018, should that happen," he said. "If they pass that test, questions about whether these highly sophisticated capital providers are here to stay might cease to become relevant," Swallow said.
Diversifying portfolios
As well as a continued and renewed interest in ILS, and well-modelled perils such as US hurricane, institutional investment funds have in recent months been building up their analytical capabilities in-house, to enable them to get closer to the risk, and exploring diversification into other lines of business, experts say.
ILS investors are showing interest in diversifying, noted Des Potter, regional head of GC Securities at Guy Carpenter, with pandemic risk transfer deals and diversification into new geographic territories being seen, he said. There is interest in diversifying to new perils such as flood and terror risk too, Potter says, though alternative capital investors will likely to continue to favour short-tail lines where there is adequate risk assessment to accurately price and monitor the risk.
Some funds are developing their own analytical skills, Potter says, which means that they are less dependent on third-party modelling. This enables them to consider risks where modelling is perhaps not as robust as for, say, US hurricane, he explained.
"We are beginning to see some of the larger funds behave and look more like (traditional) reinsurers", he said. These funds have, for example, dedicated actuarial and claims teams, he noted. This enables them not only to look at less modelled risks, but also to develop and nurture their relationship with the distributor of the risk - the broker, Potter explained.
The demand from the investor community for insurance/reinsurance risk is currently outstripping supply, so funds need to develop those relationships and find new ways to source risk, he explained.
"If it can be modelled credibly, it can be underwritten through ILS or collateralized structures," notes Steve Korducki, President of BMS Re US.
While property catastrophe risk still drives the ILS and collateralize markets, there has been diversification into mortgage guaranty, life mortality, medical stop-loss and pandemic risk, for example, he says.
The increased analytical capabilities of investment funds has seen them grow more comfortable with diversifying into new areas, experts note.
In February, for example, the International Bank for Reconstruction and Development, returned to the market with a landmark transaction providing earthquake coverage to the Republics of Chile, Colombia, Peru and FONDEN/AGROASEMEX in Mexico, noted Paul Schultz, CEO of Aon Benfield Securities.
"This monumental transaction expanded the ILS market into the previously unrepresented region of South America," Schultz said.
Greater familiarity with insurance risk, borne of increased analytical capabilities and a desire to diversify to seek returns, has seen ILS funds move into new areas, and package risks in different ways, experts say.
"The capital providers are focused on short-tail liabilities as this more closely matches other asset classes in their portfolio, noted Capsicum Re's Swallow. "As risk-takers become more familiar with insurance risk as its own, non-correlating asset class, they seek to find ways to create shorter tail elements from long-tail risks by repackaging," he explained. This enables ILS investors to participate in a broader range of risks and to optimize their insurance portfolio.
"ILS capital providers have shown their increased sophistication and eagerness to support risk in a variety of different ways," noted Aon Benfield's Shultz.
"Allstate's return to the ILS market with Sanders Re Ltd. 208-1, which provides per occurrence and annual aggregate protection on an indemnity basis to Allstate's personal property and auto business, emphasized and cemented the ability of the alternative markets to play in different ways than previously believed or expected," he said.
"The more comfortable ILS funds become with catastrophe analytics, the tighter the underwriting spreads have become," Kordukci noted. "Recent issues have seen more demand and pricing below initial 'talk.'" he says. "As long as traditional reinsurance markets find current margins acceptable, we see slow but inexorable increases in market share for the alternative capacity, as more perils are added and new worldwide sponsors continue to add geographic diversification," he said.
Record-breaking Q1 ILS issuance
The first quarter of 2018 saw $3.1bn of underwritten, widely-distributed non-life ILS capacity issued through twelve catastrophe bonds, compared to $1.7bn through five bonds in the same quarter of 2017. It marks the largest-ever first-quarter issuance in the history of the non-life ILS market, and the third-highest quarter ever, according to Willis Towers Watson Securities.
$26.6bn of non-life capacity was outstanding at the end of the quarter, up $1.1bn to a record high. Most were market-diversifying transactions, including bonds for first-time sponsors Chile, Colombia, and Peru, and by repeat Japanese cedants Zenkyoren, Mitsui Sumitomo Insurance, and Tokio Marine & Nichido Fire. As a result of this diversifying issuance, only 63% of outstanding capacity is exposed to U.S. Wind, the lowest in the last ten years.
William Dubinsky, managing director and head of ILS, said: "We expect the current trends in ILS growth to continue. Without a true surprise loss, like an ice-storm in Miami, end-investors will continue to allocate capacity to ILS. Yield increases under government bonds are expected to be neutral or maybe even slightly positive for issuance and asset growth, and even more importantly, we will continue to see a trend towards true syndication, reducing the power of large leading markets. All this will put the reinsurance market's traditional pricing cycle on life support."