Against the odds, some reinsurers are set to make a profit in this, their worst ever year, and yet the market remains balanced on a knife edge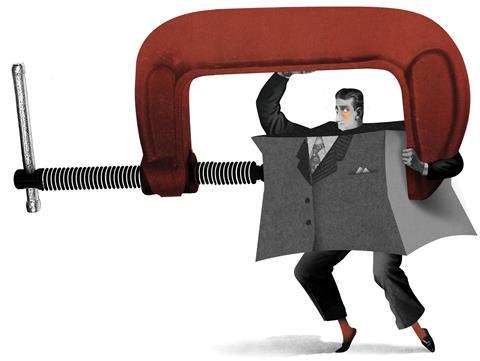 "The market is like a crème brûlée - hard on the outside but soft in the middle." This is how general manager of the reinsurance department at Swedish mutual insurer Länsförsäkringar Tor Mellbye describes the current reinsurance pricing environment.
His analysis echoes the talk in the hotel lobbies of the small German spa town of Baden-Baden in late October, where European cedants, reinsurers and brokers gather to start 1 January renewals discussions in earnest.
The general sense is that rates are hardening where there have been big catastrophe losses, such as New Zealand, Australia and, to a lesser extent, the USA. Despite flooding in Denmark in July, Europe got off relatively lightly.
As such, many believe it is inappropriate to talk of a single reinsurance market. "It is the time of micro-cycles," says Endurance Europe and Asia chief underwriting officer Hans-Joachim Guenther. "Markets are moving sideways in Europe, and we don't see too much movement in pricing. But we see improvements in terms and conditions in countries that have been affected severely by large events."
Forces in both directions
The problem is that although a number of market challenges are exerting upward pressure on reinsurance rates, the industry's still-robust capital buffers and the resulting abundant levels of capacity are pushing back the other way.
On top of the catastrophe losses, low interest rates are depressing investment returns, eating into profitability. Economic pressures mean reduced insurance spend, and by extension reinsurance spend, making growth difficult to come by.
"You have got very anaemic growth in mature markets and growth has even started to slow down in some of the emerging markets," PartnerRe Global chief executive Emmanuel Clarke says.
But several global reinsurers remain profitable despite the numerous pressures of the year, prompting some to question the need for further rate rises. For Cooper Gay reinsurance chairman Seymour Matthews, the fact that private equity investors are interested in getting into the reinsurance sector, as evidenced by the recent launch of Third Point Re, shows that the sector has profit potential and is therefore attracting adequate rates.
"At the time of Baden-Baden, reinsurers were talking about making profits in the worst ever year in their history. Why would prices go up? Why should they?" Matthews says. "There is plenty of capital out there. The capital has nowhere else as attractive to go as far as I can see."
Even where there are losses, some are expecting measured responses. "We are expecting quite a soft renewal other than whether there have been actual losses on the treaties we placed in the markets. And we expect the market to react calmly to those losses - we are not really expecting a knee-jerk reaction," says UIB treaty reinsurance divisional director Kenrich Aldrich.
While rates may not be hardening in loss-benign territories such as Europe, cedants should not expect large reductions either. While capacity is still plentiful, reinsurers are still keen to ensure they are paid adequately for it. "There is certainly no capacity drought," PartnerRe's Clarke says. "But I believe people will be a lot more careful about how and where they deploy that capacity and at what price."
Exercising caution
On the flip side, it seems that reinsurers are also wary of putting up rates too much. There are rumours of private equity capital waiting in the wings to buy into the reinsurance market if and when rates start to go up, and reinsurers may want to avoid a situation where fresh competition enters the market, depressing prices again.
"An aviation underwriter told me that they wouldn't be upset if there was a large loss, but at the same time if there was one they would rather it caused a 5% rise than a 10% rise, because then everybody would throw their capacity into the market and the market would go down within a couple of quarters," Aldrich says. "They want to keep rises steady because everybody is worried about the fact that capacity is so easily and quickly transferable."
The current market conditions are not all bad news for reinsurers. While ceding companies may be under pressure to cut costs - including their reinsurance spend - their increased retentions have hit them hard in the past year, as there have been a number of smaller losses that have fallen below the threshold of their reinsurance programmes.
But while losses have not been heavy enough to prompt rate rises so far in Europe, danger still lurks in several business lines. On the natural catastrophe front, Eastern Turkey was hit by a devastating earthquake in October. The losses from the Thailand floods are highly uncertain, with estimates varying wildly. And some believe certain liability lines are an accident waiting to happen.
"Primary prices should rise dramatically in financial institutions business," says Cooper Gay's Matthews. "Directors and officers liability losses will come through. There will be problematic areas there around the world. Those prices are still very competitive if not in certain cases going down in much of the world."
The industry is balanced on the edge, and it may not take much more to push it over. GR