Chief exec is 'excited about the growth opportunities ahead' as profit before tax improves from 2020's loss position
London market insurer Beazley has reported a 22% increase in its gross premiums written between 30 June 2020 and 30 June 2021, improving GWP from $1,663.9m last year to $2,035.3m at the end of June.
These figures form part of the insurer's half year financial results, published today (23 July 2021).
Beazley has also seen its profit before tax skyrocket, moving from a loss of $13.8m in June last year to now reach a profit of $167.3m. The rate increase on its renewal portfolio is 20%, compared to 11% for H1 last year. Revenue, meanwhile, increased from $1,329.2m at the end of H1 in 2020 to $1,484.7 for H1 this year.
The firm's operating ratio has additionally improved, decreasing from 2020's figure of 107% to be recorded at 94% this year. In turn, prior year reserve releases have reached $95.7m for 2021's H1, compared to $58.6m for the same period in 2020.
Speaking on the results, Beazley's chief executive Adrian Cox said: "Beazley's gross premiums written increased by 22% to $2,035.3m, with all divisions achieving rate rises in the first six months of 2021.
"Reserve releases across all divisions supported a half year combined ratio of 94% and the investment return achieved was also strong at 1.2% year to date.
"I am excited about the growth opportunities ahead. Our capital base remains strong and we are well placed to support an ambitious growth plan at similar levels to 2021.
"The board remains committed to a dividend payment and will consider this at year end after taking into account the 2021 results as a whole."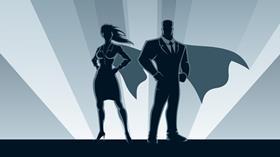 Cyber crime is 'societal' issue
A key area of focus for Beazley remains cyber insurance.
"We achieved good rate increases across all classes, platforms and territories, with most significant hardening in cyber in response to ransomware," Cox explained.
"The cyber insurance market continues to battle against the scourge of ransomware claims but, as we said at our first quarter trading update, our approach to tackling the underlying causes of losses is positively impacting claims frequency."
Beazley's strategy here includes expanding its risk management services and working with clients to build resilience and reduce exposure.
This approach, when paired with the insurer's market experience and reinsurance programme, gives Beazley a "strong market position", Cox continued.
"Emerging data on business written since October 2020 suggests that claims frequency is 20% lower by policy count. Further, when comparing frequency to premiums, the reduction is around 50%," he said.
"Ransomware, and cyber crime more generally, is both a societal as well as an insurance issue.
"We welcome the attention it is attracting at the highest levels and take very seriously the significant contribution we can make in building society's resilience to ransomware and cyber risk more broadly."
Covid-19 update
Cox further noted that Beazley is "comfortable with our estimates" surrounding costs associated to the Covid-19 pandemic.
He said: "During 2020 we estimated losses relating to Covid-19 first party claims to be $340m net of reinsurance, with this estimate assuming a resumption to some form of normality in the second half of 2021. Were this not to be the case, we also estimated a potential further $50m of claims net of reinsurance to the end of 2021.
"Given the experience we have had on first party Covid-19 claims to date, along with the continued easing of lockdown restrictions globally, we remain comfortable with our estimates - in particular the additional $50m net of reinsurance has not been incurred to date."
| Line of business | Gross premiums written – H1 2021 | Gross premiums written – H1 2020 |
| --- | --- | --- |
| Marine | $194.1m | $176.3m |
| Political, accident and contingency | $154.8m | $150.8m |
| Cyber and executive risk | $548.8m | $419.6m |
| Specialty lines | $610.7m | $472m |
| Market facilities | $88.8m | $60.7m |
| Property | $276.6m | $233.5m |
| Reinsurance | $161.5m | $151m |
'Comfortable reading'
Commenting on Beazley's results, Karl Morris, director of financials at Edison Group, said: "It appears that the business is being managed well under new [chief executive] Adrian Cox and thus investors should be pleased with the results - except for the absence of an interim dividend.
"Beazley's share price has been somewhat volatile [year to date] after a torrid 2020.
"Nevertheless, the shares have performed well into these results, rising almost 23% from the 27 May low of 294.4p to 361p. We expect that investors will be reasonably reassured that capital and cyber risk is being managed well."
Investment organisation Jeffries added: "In our view, Beazley's results make for surprisingly comfortable reading, with the capital position projected to be stable at 23%, despite growth far exceeding expectations.
"Earnings comfortably exceeded consensus expectations (by >50%), as did their quality, with the underwriting result driving the beat (investments missed).
"Guidance remains unchanged and no dividend was announced, both of which are prudent measures in our view, though [Beazley] 'remains committed to a dividend payment at year end'."