Gulf of Guinea offering covers crew kidnap and illegal vessel seizure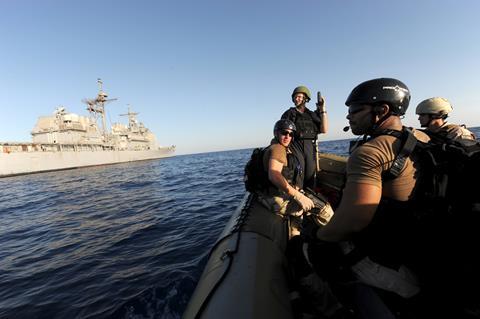 Beazley has launched a new piracy product in response to a growing incidence of hijacking in the Gulf of Guinea.
Gulf of Guinea Piracy Plus is designed specifically for shipowners with vessels operating in the region.
The Gulf of Guinea is the most northeasterly part of the tropical Atlantic Ocean between Cape Lopez in Gabon, north and west to Cape Palmas in Liberia.
The product combines cover for both the kidnapping of crew for ransom and the illegal seizure of the vessel for theft of cargo.
It also includes a tailored risk assessment and comprehensive incident response service provided by Maritime Asset Security and Training (MAST).
The service provided by MAST includes a threat and risk assessment, safety guidance on operating in the Gulf of Guinea, and optional 24-hour vessel tracking.
In the event of an incident, ship monitoring and cargo tracking is carried out and an armed security team will be deployed when the vessel has been released by pirates to assist in the safe return to the ship owner.
MAST's office in Lagos will ensure that incident response times are fast and risk assessments can be undertaken locally.
Beazley Group kidnap and ransom underwriter Michael Sharp said: "The risk of piracy off West Africa is significant. Unlike attacks off Somalia where hijacks focus on holding the crew for ransom, the pirates in the Gulf of Guinea usually focus on the theft of cargo where the associated costs are not covered under a standard piracy policy.
"As such, we recognised there was a need for a tailored service for ships operating there, and we are delighted that MAST has agreed to provide such a service to our clients."
MAST chief executive Philip Cable said: "We are delighted to be working with Beazley on Gulf of Guinea Piracy Plus. Hijack incidents are extremely stressful and worrying for shipowners, and in order for them to be resolved successfully it is vital that the appropriate measures are taken in an appropriate and timely fashion.
"Our local presence and contacts facilitate cargo recovery and safe transit for the shipowners' employees after release."