Significant underwriting actions have also been in place since September 2020 due to surging claims driven by ransomware
Lloyd's market specialist insurance and reinsurance underwriter Beazley has reported that its gross written premium (GWP) has doubled by 16% to $971m in its first quarter trading results for 2021.
For the first three months of the year - ending 31 March - premium rates on renewal also increased by 16%, which was ahead of Beazley's expectations.
Adrian Cox, the firm's chief executive, said: "We have had a positive start to the year with good rate momentum that is well ahead of our expectations, as well as continued strong targeted growth.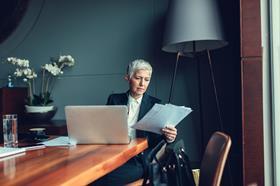 "We expect favourable market conditions to continue and are well positioned to take advantage of them given our capital surplus remains within our preferred range."
The business's Covid-19 first party loss estimate remains at $340m net of reinsurance.
Significant underwriting actions
Meanwhile, Beazley implemented significant underwriting actions from September 2020 due to heighted claims driven by ransomware trends.
These actions include working with clients on robust risk management practices.
Beazley noted that these steps are now having a positive impact on cyber ransomware trends, according to the firm's early indications.
Its cyber and executive risk division overall achieved premium growth of 19%, driven in part by continued growth in executive risk as the market continues to respond to the claims environment surrounding directors' and officers' (D&O) insurance.
People moves
Earlier in April, Cox replaced Andrew Horton as chief executive - he was previously the chief underwriting officer and has been a member of Beazley's board since 2010.
Meanwhile, Andrew Pryde, who has been chief risk officer at Beazley since 2011, will be leaving Beazley at the end of May.
Rob Anarfi, global head of compliance, will combine his current role with that of the chief risk officer, making him chief compliance and risk officer.
In February, Beazley announced the formation of a new digital business unit led by Ian Fantozzi, to bring together multiple strands of work and multi-skilled teams to build a cohesive, transformative etrading strategy. This was discussed by James Wright, head of digital platforms, at Insurance Times's conference Insurance2025.