Fifty-six thousand people relocated after super typhoon struck Philippines yesterday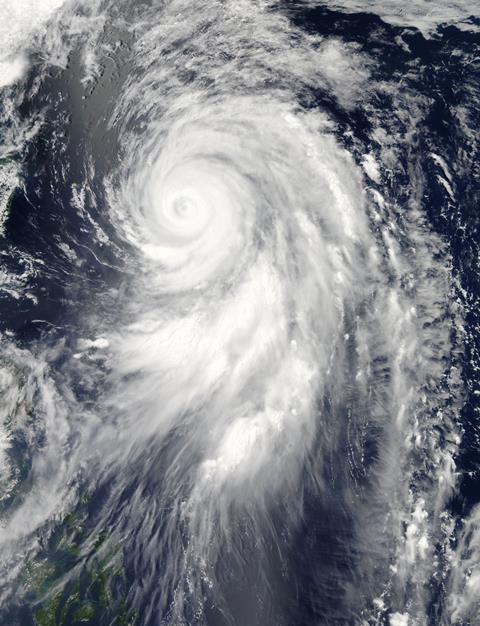 Insured losses from Super tTphoon Bopha that hit the Philippines yesterday are not expected to be high as insurance penetration in the area was only 10%-20%, according to catastrophe modeling firm AIR Worldwide.
A total of 56,000 people have had to be relocated.
The super typhoon was a direct hit on the southern island of Mindano, with the cities of Cagayan de Oro, Davao City and Dumaguete City most affected.
Bopha made landfall with a central pressure of 930 millibars and sustained winds of 115mph, catastrophe modeling firm AIR Worldwide said.
NASA-TRMM data indicates maximum rainfall of 50-75mm per hour at landfall.
"Bopha is a unique storm owing to its intensity and it's extremely southern track," AIR Worldwide senior principal atmospheric scientist Peter Sousounis said.
"In fact, Bopha is the strongest typhoon to track through the southern Philippines since Super Typhoon Mike in November 1990. With a genesis point just 3.8 degrees north of the equator, Bopha is also the most southerly typhoon on record in the western North Pacific Basin and the second most southerly overall. Only Typhoon Kate, in 1970, formed closer to the equator."
Bopha is currently moving west northwest across the Philippines at a speed of 19mph, as the low level circulation centre that defines the storm has just emerged over the Southern Bohol Sea.
An intense storm with an average-sized wind field, Bopha was equivalent to a category 4 hurricane at landfall but has since weakened to a category 1 equivalent storm with reported wind speeds of 90-95mph.
Sousounis continued: "As Bopha completes its track across the Philippines in the next six hours or so, it will emerge on the west side a few hundred kilometers from Manila. Although Bopha will remain far enough south to spare Manila the brunt of the storm, some rain and wind are possible in the Philippine capital through early Wednesday as estimated rainfall rates of 10-18 mm per hour are expected within a 500km diameter of the typhoon.
"Storm surge of up to 5.5m above normal has been reported in coastal regions, and inland flooding from high levels of precipitation is also a risk."
"The storm weakened considerably owing to its interaction with land but is expected to remain a typhoon as it is located in a region of low vertical wind shear - a condition conducive to intensification. Some weakening is expected over the next six hours as the storm further interacts with Negros Island, but the storm should intensify as it moves over the warmer sea waters of Sulu, while remaining in a low wind shear environment.
"By the time the storm arrives in the southern China Sea, increasing wind shear and cooler water will likely result in a more dramatic weakening of the storm."