Three dead and 140 injured after possible terrorist attack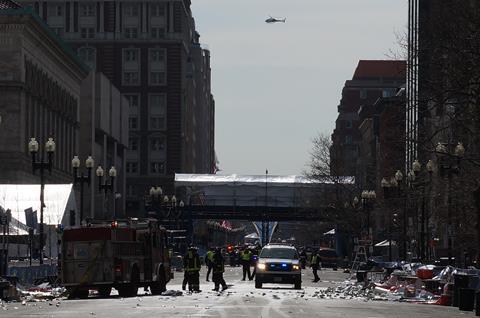 The two bombs that exploded at the finish line of the Boston Marathon yesterday are likely to spark discussion about the extension of the Terrorism Risk Insurance Program Reauthorization Act (Tripra).
The US Federal Bureau of Investigation (FBI) is trying to establish who was responsible for planting the two bombs that exploded, killing three people and injuring at least 140.
The bureau is describing its probe of the incident as a potential terrorist inquiry and US president Obama has vowed to catch whoever was responsible for the worst bomb attack on US soil since September 11, 2001.
The two explosions came moments apart, four hours and nine minutes into the race when many of the time-average contestants were arriving at the finish line.
Tripra, which provides government backing to terrorism insurance policies in the US, is set to expire in December 2014. Congress is debating whether to extend the act. The House of Representatives has introduced a bill to extend the act.
Tripra is the latest incarnation of the facility set up to provide terrorism reinsurance capacity in the aftermath of the September 11 attacks. While experts argue there is now a viable private market, AM Best has voiced concern over insurers' exposures should the federal backstop be discontinued.
Key concerns continue to be insurers' net loss exposures to terrorism (excluding the benefit of Tripra) exceeding 20% of capital and surplus; high aggregate exposures of risks within certain geographic areas; the locations of exposures within those areas; and the impact on capitalisation.
Despite the Boston Marathon bombs, the London Marathon will go ahead this weekend as planned.
London Marathon chief executive Nick Bitel in a statement: "Our security plan is developed jointly with the Metropolitan Police and we were in contact with them as soon as we heard the news."
London Metropolitan Police chief superintendent Julia Pendry added: "A security plan is in place for the London Marathon. We will be reviewing our security arrangements in partnership with London Marathon."