Broker Insights's chief executive and co-founder says the insurance sector has seen the benefits of engaging digitally during the pandemic
Dundee-based insurtech startup Broker Insights has set its sights on expanding to North America in 2022 as its revenue has doubled to £2.25m in its second year of trading, ending 31 January 2021.
Its platform, which connects UK-based insurers and brokers, has also doubled its gross written premium (GWP) to £1bn.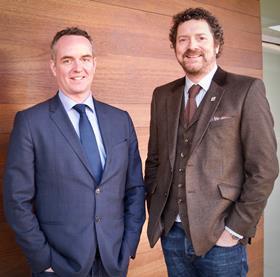 Fraser Edmond, Broker Insights's chief executive and co-founder said: "We have experienced accelerated adoption of the platform in the UK over the last 12 months as the industry has seen the benefits of this new digital route of engagement between insurers and brokers.
"The platform is unlocking value for insurers and brokers by reducing costs and increasing trading effectiveness."
Staff headcount has also increased from 17 to 30 over the last 12 months, with roles added in software development, data science and within the commercial team.
April saw the business hire Kevin Ord as chief operating officer, to help it prepare for what Edmond's refers to as "rapid scaling".
Transforming commercial insurance
Broker Insights moved into profitability during the year and repaid the early stage support and loans it received from funding competition Scottish EDGE and the Scottish Investment Bank.
Founded by ex-Aviva senior executives Edmond and Iain Crole, Broker Insights claims to be the first independent, searchable platform connecting insurers and brokers in the UK.
Seven insurers are signed up on the platform already, including Zurich, AXA, Hiscox, Markel, Ecclesiastical, QBE and RSA , as well as more than 150 brokers.
Using a combination of automation, collaboration tools and real-time data, the platform aims to help narrow the data gap between brokers and insurers, increase the distribution and sales of insurance products and reduce costs.
Broker Insights is backed by the investment arm of Chris van der Kuyl and Paddy Burns's gaming development business 4J studio, called Chroma Ventures.
The startup is also focusing on adding several new products to the platform - for example, it recently launched Market Management, a new product for large brokers allowing them to license and configure the platform according to their needs.
Van der Kuyl, principal at Chroma Ventures and Broker Insights's chairman, said: "Broker Insights is one of the UK's fastest-growing tech businesses with an opportunity to transform the global commercial insurance market. The next phase of major growth will be expansion into the US market."
Gearing up
Speaking to Insurance Times prior to this announcement, Edmond said: "A lot of [Broker Insights's] growth is a testament to the demand of what we are doing – helping brokers and insurers connect. It's about really working with broker partners and understanding their potential within their business so that we can help unlock from the inside."
During the pandemic lockdowns, Broker Insights continued to sign up brokers remotely. It also saw a massive increase in insurers using the platform due to in-person networking being hampered because of social distancing measures.
"If you are an insurer and you can't get out in the market to engage with brokers, then having visibility of the market within a platform on your desktop has become much more important," Edmond explained.
"Equally, if you are a broker and insurers in the market are not visiting you, having your business within the platform is helpful to the brokers as well."
Referring to Broker Insights's strapline – "we let insurers see and brokers be seen" - Edmond said that during the pandemic lockdown, this was spot on.