Premier of Bermuda David Burt spoke at GR's Innovation and Insurtech event today, underlining the importance of innovating and staying ahead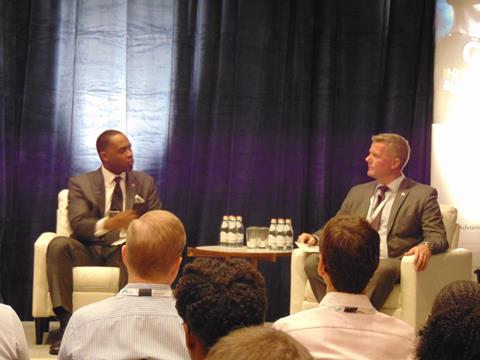 Innovating and developing technology are crucially important to Bermuda's status as a leading global re/insurance hub, the island's premier, David Burt, told GR's Innovation and Insurtech 2018 event.
Technology is having a transformative impact on the sector, and Bermuda's regulatory environment as a jurisdiction of choice for re/insurance needs to keep pace with that, he emphasised.
Burt underlined the importance of the re/insurance sector to Bermuda.
"It's important to innovate and stay ahead. Staying ahead has always been crucial to Bermuda's success," said Burt, interviewed by Sean Moran, interim CEO of Bermuda's Business Development Agency (BDA).
"We need to look at process; we need to look at how we do things; and how we make it more efficient," said Burt (pictured sitting left).
He pointed to the Bermuda Monetary Authority's (BMA) insurance regulatory sandbox created this year, via the Insurance Amendment Act 2018, to test insurtech applications prior to rollout.
"The BMA is ready to put that to work," said Burt.
He celebrated the close working relationship between Bermuda's government, its regulatory framework, and the island's re/insurance industry.
"It's unique to Bermuda that the government, the regulator and the industry work together so well," he added.
Burt also emphasised the importance of growing Bermuda's local talent pool for "local entrepreneurship" to contribute to the challenge posed by insurtech.
"For the companies that want to be here…we want to continue to ensure that there is an ecosystem for them," Burt added.