By Adrian Morgan, executive vice-president and head of AdvantageGo at NIIT Technologies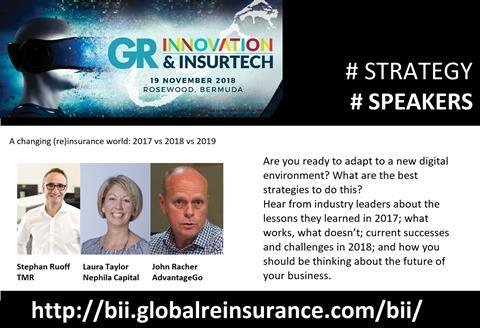 Monte Carlo is behind us and Baden Baden is about to start. Hurricane Michael has been the talk of the town and the consensus is that insurers and reinsurers can weather the losses.
Fitch Ratings said that capital remains very strong and all Michael will do is push 2018 closer to a more normal catastrophe loss year. Catastrophe modelling firm Karen Clarke & Co estimated, at the time of writing, that insured losses from the storm could approach $8 billion.
So what does that mean for AdvantageGo and our customers? It means, unless something drastic happens, pricing will most likely not go up at renewals in January. And in turn, this means that insurers and reinsurers are going to have to look again at ways of making their businesses more efficient in order to maintain profitability in the light of the "new normal" soft market. And technology is seen as a logical way to improve efficiency and profitability across the board.
Insurers are starting to understand the possibilities of insurtech and how it will fundamentally impact how business is transacted. However, the reinsurance and ILS markets often struggle to align InsurTech and its ideas with its traditional way of operating. But it does not mean they are not trying.
Earlier this year we conducted a survey of insurance and reinsurance executives, and we found that their number one concern was upgrading technology. This pipped underwriting discipline, regulation, cyber security and M&A to the top spot. And we can see this continuing in 2019 and well beyond as companies look to existing and emerging technology to maintain profitability and in some cases save and transform their business.
The results were interesting. Three quarters (76%) of those surveyed were currently involved in data analytics and big data projects, and more than half were looking at projects involving machine learning (55%), Artificial Intelligence (52%), and blockchain (52%).
Some companies are adopting new technology to stay ahead of the game, while others are anxious about being left behind. The survey highlighted a key dilemma with which the industry is currently grappling: on the one hand, there is an overwhelming recognition of the need to improve technology, but on the other, there is a concern about the rate at which the industry, as a whole, is adopting InsurTech solutions. The research, however, backs up what we know from our business – everyone is taking InsurTech seriously and know they have to reduce costs and make the market more efficient.
One of the most positive things about the survey results was that each one of the 30 executives we interviewed, every one of them saw InsurTech as an opportunity.
However, the concern that many companies have in needing to upgrade their technology is hampered by the historic investment in legacy systems and this can be a barrier to progress. CEOs must have a clear vision as to how technology can transform their business and embrace it to support their aspirations. Our research confirms that companies are both developing in-house expertise, but also leveraging external providers to help them develop solutions quickly and address the problems they're facing, such as the ability to price more accurately, filtering and using data and accessing real-time information.
Plotting a path through the many facets of new technology the industry is working in partnership with newcomers to the sector. This seems to be the best way to tackle the challenge and the change needed – to take the traditional re/insurance market by the hand and help them revolutionise their business.