Latest capital raise brings Convex's committed capital to $3.2bn
Stephen Catlin-backed specialty insurer Convex has raised yet more capital - this time from San Francisco-based global investor Sixth Street.
The latest round of investment brings Convex's total committed capital to $3.2bn.
In November the firm raised $1bn (£750m) in equity capital from a consortium led by Onex and GIC. Sixth Street was included as part of the consortium.
Convex launched in April 2019 with $1.7bn committed capital and is spearheaded by industry veterans Catlin and Paul Brand.
Its business lines include aerospace, casualty, energy, marine, and property.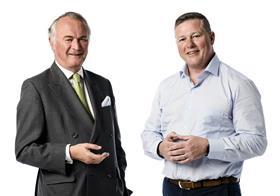 Last month it secured post-Brexit EU access via a partnership with French Insurer SCOR.
Commenting on the capital raise, Catlin said: "We are pleased to be partnering with the Sixth Street team to strengthen our position even further in today's cyclically advantageous market environment.
"This significant additional capital provides us with greater flexibility as we continue our recent momentum in growing our business."
While Sixth Street co-founder and partner A Michael Muscolino said: "With an exceptional track record and disciplined team of underwriters, Convex is uniquely positioned to pursue opportunities made available by a hardening market.
"Our cross-border financials investing franchise is pleased to be supporting Convex management alongside their impressive existing institutional investor base, and we look forward to our long-term partnership."
About Sixth Street
Sixth Street is a global investment firm with over $50 billion in assets under management and committed capital. We operate nine diversified, collaborative investment platforms: TAO, Growth, Specialty Lending, Fundamental Strategies, Infrastructure, Opportunities, Insurance, Agriculture, and Credit Market Strategies. Our long-term oriented, highly flexible capital base and "One Team" cultural philosophy allow us to invest thematically across sectors, geographies, and asset classes. Founded in 2009, Sixth Street has more than 320 team members including over 145 investment professionals in nine locations around the world. For more information about Sixth Street, visit www.sixthstreet.com.