GR looks into bribery and bad business practices across the region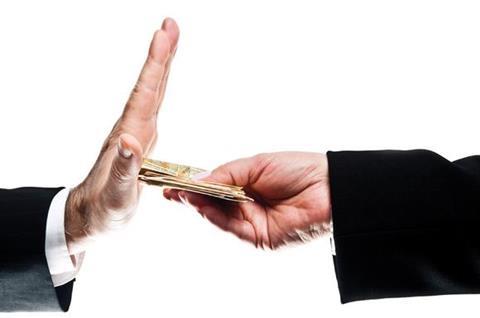 "Every man has his price," said British prime minister Robert Walpole in 1734. While Walpole may have had a pessimistic view of human nature, it is true that corruption and greed are no strangers to business in any part of the world today.
One such region is the Middle East and North Africa (MENA), where honest brokers report corruption, bribery and bad business practices among their less scrupulous rivals.
Here, GR interviews several MENA brokers in confidence to discover the state of corruption in the MENA market, what is causing it, and what the likely future of the problem is.
While the MENA region is vast and hard to treat as a homogenous unit, with many of the MENA financial centres (such as Dubai) having strong regulation and enforcement, brokers in the region say that insurance corruption is generally fuelled by too much competition and regulations not being enforced well enough in some countries. The stiff competition leads companies to cut corners in desperation to secure business, while the lack of enforcement does nothing to discourage the dishonest.
So which types of corruption take place? One broker told GR that a common problem comes when insurers seek to use corrupt brokers to hide bribes to potential clients. The insurer passes a commission to the broker, which then passes the majority on to the client.
"So the insurer's books look legitimate, with a broker in the middle," a broker explained.
Another broker reported an example where an individual from a financial regulator was asking for fines for newly created regulations to be paid directly to him, in cash.
A third broker suggests that a less pronounced form of corruption comes when brokers simply ignore regional insurance regulation in an attempt to help them win business, knowing that they are unlikely to get caught.
The honest brokers interviewed are reluctant to name names. But they said that most of the fault can be attributed to local insurers and brokers dealing in few regions, and rarely to international players.
Unfortunately, the impact of the dishonest dealings is felt on the honest players too. One intermediary said that because so many brokers are used to hiding bribes, the very presence of an insurance broker in a transaction can be enough to cause suspicion. "So others, in order to avoid suspicion, will avoid using a broker," he said. "That's how my industry suffers."
However, other brokers believe that corruption is not a big issue in the MENA market. "There are so many players, that there are companies, including insurance companies, that cut corners," one said. "Whether this is part of the competition, or not honest, is a different thing."
Others point out that notions of corruption vary between cultures, and that while some MENA practices might offend Western sensibilities, many MENA executives might view accepted Western traditions of corporate hospitality as bribery. "I think there are variances in what is proper and what is improper," one explained.
So what is the solution? One intermediary told GR that tougher enforcement of existing regulations in the less rigorously controlled markets will play a big part in reducing the number of dishonest players in the region.
"It's not that there aren't enough regulations," he said. "The problem is enforcement."
Another also called for tougher regulation, as many companies exploit loopholes. "If there is no law, there is no breach," he said. "So a company that tries to cut corners, or have untidy practices when it comes to dealing with business, they just stay within the grey area that allows those practices."
But most brokers were positive about improving standards in the future. "I think the general trend is encouraging," said one. "Those that think they are entitled to a greater return by breaking the rules are realising that that will not work in the long term."