Validus boss Ed Noonan can quip with the best of them, but beneath the grin lies a tough customer, as his company's hostile takeover of IPC proved. He talks here about the deal of the decade – and what's next on the agenda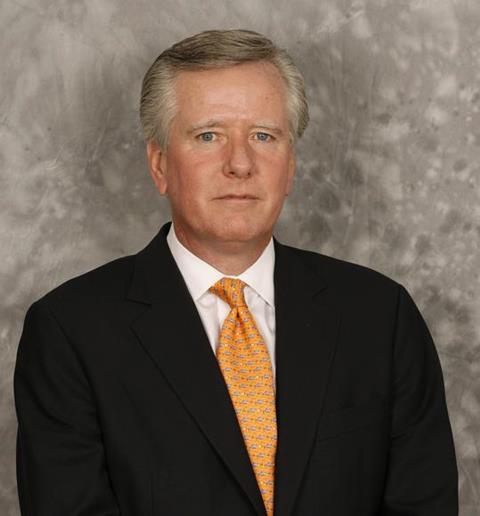 Ed Noonan likes a joke. The Validus Holdings chief executive can't resist throwing humorous comments into his chat with Global Reinsurance. When we point out that he has been in the reinsurance industry for some time, he quips: "Over 600 years – I started with the Venetians in the marine reinsurance business."
Amiable and easygoing he may be, but Noonan is no soft touch. Just ask Marty Becker, his opposite number at the company now known as Alterra.
In 2009, when Alterra was still Max Capital, the two locked horns over the purchase of catastrophe specialist IPC. The battle was bitter and drawn out. Not only did Noonan disrupt what looked like a done deal for Max by putting in an unsolicited counter-bid for IPC in March of that year, he sued both Max and IPC in April when IPC rejected Validus's offer, challenging a $50m termination fee in Max's initial merger agreement. He also upped the Validus offer several times over the four months it took to secure an agreement.
Noonan's tough tactics paid off and Validus succeeded in striking a deal with IPC in July for $7.50 cash and 0.9727 Validus shares for each IPC share, also beating off a last minute challenge from fellow class-of-2005 reinsurer Flagstone Re. Validus said at the time that the $31.73 a share paid was a 24.9% premium to IPC's share price before it made its initial offer. The deal finally closed on 4 September 2009.
Worth fighting for
Noonan describes the fight to buy IPC as "gentlemanly, if a bit rugged".
"Our industry is not one where you see many hostile takeovers. It's very hard to do, and it has probably been close to 30 years since anybody had done it," he says. "But to accomplish something significant, you have to be willing to fight for it. We were convinced this was a great step forward for Validus and we were willing to fight very hard to accomplish that."
Now the deal has had 18 months to bed in, and the company has reported its first full-year results as a combined entity, has IPC proven to be worth the estimated $1.7bn and not inconsiderable effort to buy it? And with the soft market looming and rumours swirling that Validus is seeking further takeover targets, where does Noonan take the company, and indeed his own career, now?
For Noonan, winning IPC was a resounding success. "It has been a home run on several different levels," he says.
While Validus paid a premium to IPC's share price, Validus snagged the company at a discount to net tangible assets. The result was a $287.1m one-off gain booked in Validus's 2009 results. "It's not that easy to make $300m in a single day, but we were able to do that with the acquisition of IPC," Noonan says.
Shareholders were also happy: IPC's owners were paid a dividend of $400m on completion of the deal. Validus has also bought back $947.2m of its own stock since the deal completed.
Best of all for Noonan, however, was how the enlarged firm was received by the property-catastrophe reinsurance market. Individually, Validus and IPC had shareholders' equity of $2bn and $1.8bn, respectively. Following the combination, return of capital and buy-backs, the combined entity now has shareholders' equity of $3.5bn. In particular, IPC expanded Validus's footprint considerably in the European catastrophe market.
"It suddenly made us a very large, meaningful player on almost every programme we participated in, and made us strategically more important to the marketplace," Noonan says. "I underestimated that aspect of the transaction. I thought it was a good transaction and would improve our business, but quite frankly we have much more influence than we could possibly have had as a smaller company."
Noonan adds that he regularly notices the size impact when doing business in the market now. "Brokers who place a programme of any size in the global market almost have to come through Validus."
Getting the edge
Validus's extra bulk has come in handy for distinguishing the company from the rest of the Bermuda set, which Noonan argues are all well capitalised, well run – and increasingly difficult to tell apart. "We are able to trade effectively at a much higher rating category because of our capital level," he asserts, adding: "We are able to use our size to have influence over placements."
Not even rating agency and analyst gripes have been enough to take the shine off the IPC deal. AM Best, for example, expressed concerns that combining two property-catastrophe heavy companies like IPC and Validus would create a concentration of risk and put Validus's A- rating under review, with negative implications.
But Noonan asserts that the combined entity has kept its catastrophe exposures in check. He says that the company does not allow its one-in-100-year probable maximum loss expectation from catastrophes to exceed 25% of capital. Before the IPC acquisition, it was 21%, and it still is. "I think that concern has been disproven," he says.
The IPC acquisition added to Validus's 2007 purchase of Lloyd's insurer Talbot, which added insurance business to its portfolio as well as several new classes of business. Since that acquisition, Validus Holdings has had two operating units: Validus Re, which writes purely reinsurance from Bermuda, and Talbot.
Both the insurance and reinsurance markets, with a few exceptions, are softening, which could make further growth challenging. Noonan is clearly not willing to sacrifice profitability for volume, stating: "Underwriting profit is the only altar we pray at."
"We don't see great room to grow Validus Re in the near term due to global competition," he says, although he adds that the recent catastrophes in Australia and New Zealand could present some opportunities. "We are at a point where we are quite content to underwrite the business well, and write business we can get paid for appropriately. If that means we have to shrink a bit, that's okay – we're fine with that."
He argues that Talbot is in a similar situation, although there are strong rate increases in areas such as marine liability and offshore energy following the Deepwater Horizon oil rig explosion, and war and terrorism following the recent Middle East unrest.
"In our existing businesses, we feel pretty good about where we are," he says. "If the market isn't there, we are happy to shrink, and we will just manage our capital to the size of the opportunity we have."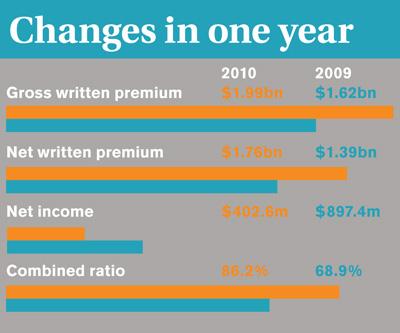 Learning from experience
One area that Validus is likely to shun in particular is US long-tail liability. Noonan knows from bitter experience how challenging this line can be.
Aside from running Validus since inception in 2005, Noonan is perhaps best known in the market for his time at American Re, a New Jersey-based reinsurance group that was bought by Munich Re in 1996 and is now known as Munich Re America.
He ran the reinsurance division of American Re from 1987 to 1996 and was chief executive of the entire company between 1997 and 2001. He describes the first of these two periods as "fantastic years", but adds: "It is easy in a time like that to convince yourself that you're Lance Armstrong, without realising you are pedalling downhill."
The truth hit home in the soft market of 1997 to 2001 when American Re, along with several of its peers, was hit hard by severe US casualty losses, in particular from old asbestos-related claims.
"More than anything, I came away with a great respect for how quickly the (re)insurance business can change," Noonan says. "I have a very profound respect for the need to understand a multitude of underlying factors when thinking about underwriting casualty business – which is one of the reasons we really don't underwrite third-party liability business today."
Looking elsewhere
There are, however, future growth opportunities to be considered. Noonan says his company is under-represented in the USA in general: the company writes US-exposed catastrophe business but does little else.
"The day will come when North American pricing will start to turn attractive. It is the biggest market in the world and therefore, at that point in time, our biggest opportunity," Noonan says. "We look forward to that day. It is an area we can grow organically through the syndicate and we can certainly grow organically in our reinsurance business."
Assuming the right market conditions, Noonan would be open to setting up a US platform, either from scratch or through acquisition.
Other areas where Noonan is open to making acquisitions are the growth hotspots of Asia and Latin America. Talbot has a presence in the Lloyd's Singapore platform, and Validus Re has an Asian representative office in Singapore. Validus Re also writes Latin American risks from its offices in Miami and Santiago.
"The growth of the global economy for the rest of our lifetimes is going to take place disproportionately in Asia and Latin America," Noonan says.
"We are seeing opportunities to grow it, and it is another area where, if there was an interesting opportunity, we wouldn't hesitate to pursue it through acquisition, as well as organically."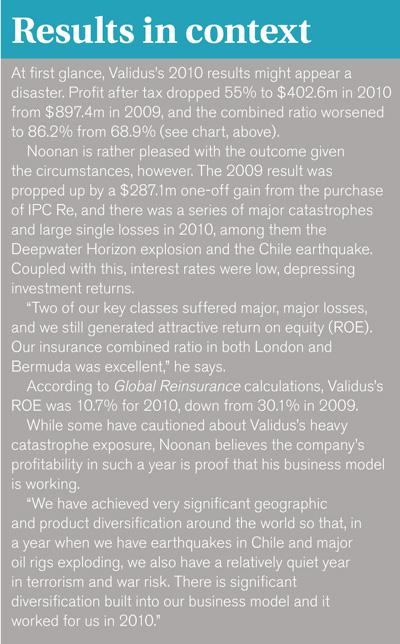 Next steps
Following its success with IPC Re, rumours have surfaced that Validus might try to buy another of its Bermudian peers, this time Ariel Re. News reports have suggested the two companies are in advanced talks. Noonan declined to comment, but conceded that further consolidation among Bermuda's reinsurers would make sense.
"Bermuda is an excellent market, but there are so many of us with similar strategies, so it is difficult for investors to differentiate between companies," he says. "We have proved the point with IPC that you can take two companies, each of whom has $2bn of capital, and create a better company out of it and still return the vast majority of capital to shareholders. There is capital that should be liberated in the industry, and consolidation would do that."
With Validus proving resilient to catastrophe losses and a force to be reckoned within the global catastrophe reinsurance market, might it be time for Noonan to look for another challenge? He says there is plenty going on at the company to keep him interested for some time yet.
"Validus is my passion," he asserts. "I feel like we have only scratched the surface for long-term opportunities for the company, and so I am anxious to see how the second act plays out. I look forward to being a part of it."
You get the impression that Noonan's not joking about that. GR