Since the 2002 floods, protection has improved and insurers have introduced higher deductibles or withdrawn from providing cover in loss-prone areas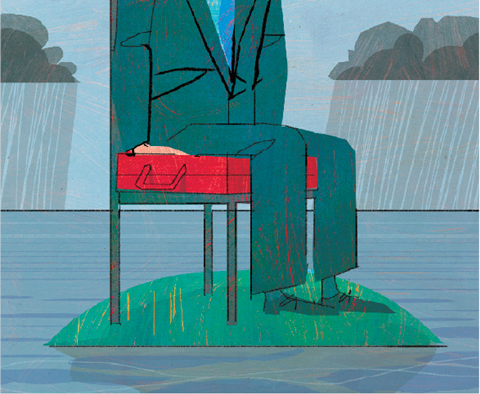 AIR is the first of the cat modelling agencies to estimate the likely size of claims from the Central European floods, easily doubling earlier estimates. It estimates that insured losses in Germany alone are likely to be up to €5.8bn ($7.6bn).
Other sources had consistently predicted a hit of about €3bn for the insurance industry. Keefe, Bruyette & Woods expects reinsurers' share of the flood claims to amount to €1.3bn.
Of the big European reinsurers only Hannover Re has issued a loss estimate so far, predicting it will receive in the order of €100m worth of claims, just less than half of the net burden of €250m expected by parent Talanx.
Allianz has estimated that its share of claims from the floods will amount to €250m.
Italian insurer Generali has estimated a hit of approximately €100m, net of reinsurance recoveries and taxes.
Too early to call?
European flood is significantly better modelled than Thai floods were two years ago. After Thailand, insured loss estimates continued to climb for several weeks as the true magnitude of the event was revealed.
Exposure information is also well understood and therefore the estimate from AIR of between €4bn and €5.8bn of claims for Germany is based on far more sophisticated data and analytics.
"Floodwaters hit Germany hardest, particularly the east and south German states of Thuringia, Saxony, Saxony-Anhalt, Lower-Saxony, and Bavaria," said AIR Worldwide managing director Yorn Tatge. "Several levees along the Elbe River near Magdeburg, the capital of Saxony-Anhalt state, were breached or in danger of a breach as flood water rose more than 4.8m above normal. In Passau, located at the intersection of the Danube, Inn, and Ilz rivers, floodwaters reached their highest level since 1501, while the Saale River in Halle, Germany, reached its highest level in its 400 years of record keeping."
Fitch estimates that economic losses in Germany are likely to be about €12bn.
According to rating agency AM Best the final loss the insurance industry will face currently remains unclear given the situation is still developing in the Czech Republic, Germany, Austria, Poland, Hungary, Slovakia and Switzerland.
Many towns remain submerged, and water must recede before loss adjusters are able to determine the full extent of the damages. However, based on the coverage dynamics in these markets, the rating agency expects economic losses will far exceed insured losses.
With flood waters now subsiding, countries across Central and Eastern Europe, including Germany, Slovakia, Austria, Czech Republic, Serbia, Hungary, Switzerland and Poland are beginning to count the cost of the damage.
The worst of the devastation is along the banks of the Rivers Danube and Elbe and their tributaries. In addition to property and infrastructure damage the agricultural sector has also been affected.
Using 2002 as a benchmark
The last major flooding event in central Europe was in 2002. Damage was largely concentrated in the residential and commercial properties of Dresden and Prague. The economic damage from 2002 was estimated to be about €17bn, with Germany, Austria and the Czech Republic bearing most of this damage.
Despite a sizable economic burden the insured loss in 2002 was substantially lower. Given low insurance penetration, flood damage culminated in approximately €3.4bn of insured loss. Most of these claims were the result of reinsurance contracts written in Germany, Austria and the Czech Republic.
Had the floods occurred today, they would cost insurers about €5bn, estimates AIR.
Since then however flood protection has improved and insurers have introduced higher deductibles or withdrawn from providing cover in loss-prone areas. The average take-up rate for residential buildings across Germany is estimated at about 35%. However, there are significant regional differences in insurance.
Compared to the floods of 2002, to date fewer major economic centres and municipal towns have been flooded, points out AM Best. Rural areas have tended to be the most severely affected, and underinsurance is common in the affected towns. In Eastern Europe, many residential property owners are uninsured.
"The first five months of 2013 have been benign for natural catastrophes and large losses, and as a result, the flood losses are well within most companies' cat loss budgets for 2013," says AM Best managing director of analytics Stefan Holzberger.
"Rate rises and higher deductibles are anticipated for flood cover, and possibly also for the non-flood components of retail and commercial property policies," adds AM Best director of industry research Yvette Essen. "Flooded regions may also be reassessed and flood zones remapped."
Central European governments are likely to come under increased pressure to invest in flood prevention infrastructure, predicts the rating agency. They may also explore the creation of flood insurance pools or make flood insurance compulsory in loss-prone territories.