But future investment planned to close the gap on the rest of the world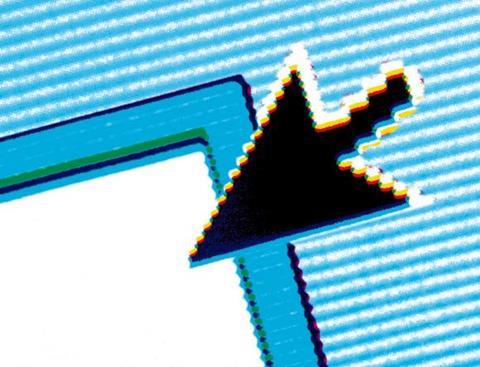 The European insurance market is suffering from legacy systems hampering digital developments, according to research from Ernst & Young (EY).
Of those surveyed by EY, 90% of European insurers rated themselves as having low-maturity in the digital arena, compared with 79% of their global counterparts.
The top two reasons for digital strategies not being as advanced as they could be were legacy systems and slow delivery from insurers (see graph below), both of which had greater prominence than the global average.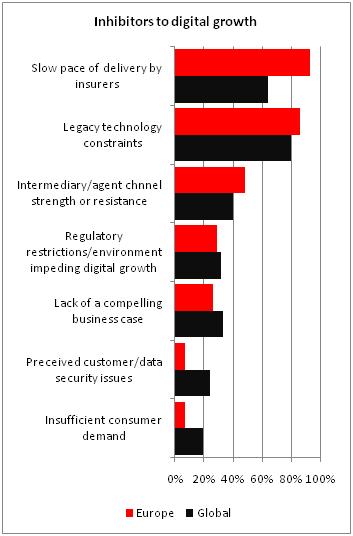 However, EY insurance partner Imran Ahmed said the UK was bucking this trend, with digital already having an established foothold in the UK market.
"The UK is one of the leading personal insurance markets and digital has already taken off here in a big way. Compared with mainland Europe and even the US, where most personal insurance is still sold through agents, the UK is definitely ahead of the curve in terms of percentage of business transacted online.
"However, UK insurers have been brutal in their self-appraisal of their digital capacity and what they need to do to catch up with other sectors. To date the focus has been on digitalising the sales process; UK insurers now need to work on their service propositions. The concept of self-service is relatively immature in the UK but it has the potential to deliver big benefits for consumers and efficiency benefits for insurers as well."
But the survey reveals that European insurers may be waking up to the need to go digital, even if they have been slow to react.
Currently, 84% of European insurers spend less than 10% of the IT development budget on digital applications, compared with a global average of 68%. However, more than one-third of European insurers expect their digital spend to increase by more than 50%, compared with just 18% of global insurers.
EY global insurance customer leader Graham Handy said this investment in digital was vital if an insurer was to succeed in the future.
"Digital is a new market force that is driving a massive change in consumer expectations. Insurers cannot afford to be left on the sidelines of the move to digital," Handy said. "They must evolve and respond to constantly shifting consumer expectations."