Growing capital a key reinsurance challenge, says SNL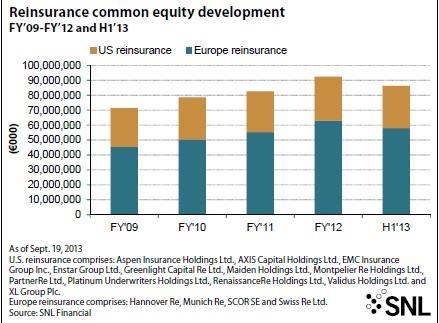 The mounting excess capital on the balance sheets of reinsurers could lead to larger dividend payouts and share buybacks, according to SNL Financial.
One of the reinsurance community's main challenges is how to manage the growing amount of capital on their books, SNL said.
A cross-section of SNL-covered reinsurers shows that total common equity increased steadily from 2009 to the end of 2012, and remained above year-end 2011 levels despite a dip in the first half of 2013.
SNL data shows that in the first half of 2013, reinsurers actively sought to manage their capital levels through the payment of dividends. Swiss Re, for example, announced the payment of a special dividend of CHF4.00 ($4.39) per share at its full-year 2012 results.
Unrealised gains also had a significant effect on capital development, as a result of a rise in US interest rates in the first half. Other capital movements, such as share buybacks, contributed further to the decline in common equity during the first half.