Mitigating the impact of low-frequency, high-risk events will mean different results for different companies, but 'we have to work together and we have to take action now', says industry panel
Business models pre-coronavirus were too focused on efficiency and growth, leading to a "resilience death" when companies were then faced with new and emerging risks, such as Covid-19, according to Carolina Klint, Marsh's chief executive of the European North West region.
Speaking at an event hosted by intergovernmental economic body the Organisation for Economic Co-operation and Development (OECD) last month, Klint said businesses have been grappling with how to survive and build resilience during these trying times - not only in relation to the ongoing pandemic, but also with regards to managing increased cyber attacks, catastrophic climate events and increased social unrest.
"The pandemic has accelerated trends that have been coming for a long time and it is a really complex environment for businesses to operate in now," she said.
"I think what we are learning to some degree [is] that in past times, maybe we have rewarded efficiency over resilience, and growth over sustainability a little bit too much and created a resilience death by not responding to and preparing for these emerging risks."
Companies left 'vulnerable to shocks'
Reflecting on the past decade and how the predictability of the business environment has enabled companies to pursue and perhaps prioritise profit growth, Klint emphasised that this efficiency has left some companies "too lean" and "vulnerable to shocks".
Lucia Mullen, senior analyst at John Hopkins Bloomberg School of Public Health, added: "While this is traditionally an area we consider very low probability of occurring but [of] high-consequence, Covid-19 has shown us that that low probability is slowly increasing.
"It is not out of the realm [of possibility] that we are going to have another [pandemic], so I think we really need to look at those lessons learned we have garnered from this and those joint partnerships between public and private sectors, and make sure that we use all the tools in our resource to strengthen collectively and improve responses going forward."
Mitigating the impact of this type of event will mean different things for different companies, but Klint shared that there are a couple of general good practices that businesses can follow.
"The first one is protect your people – so ensuring the wellbeing of the employees, whether it is at work or at home, that is a critical first step," she said.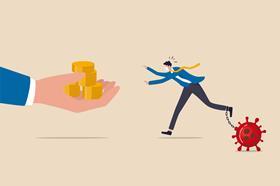 "Then, developing good risk scenario planning capabilities - this is important to be able to establish the plausible impact on people operations and finances to underpin future investments in risk management and resilience going forward."
Klint added that communicating with stakeholders is also key, engaging with customers and monitoring how their wishes and buying patterns might have changed, both in real-time and as a result of the pandemic. Relevance and keeping an eye on liquidity due to business interruption are also important.
Joint responsibilities
More broadly speaking, Mullen said that insurers too have the responsibility to spark change.
"Insurance companies should ask governments to have and also to see what type of epidemic or pandemic preparedness plans they have in place," she said.
"If [insurers] are interested in incorporating pandemic insurance into their outlook, then they can use this momentum and this time right now to call on governments to prioritise public health planning, to prioritise health infrastructure and health capacity."
Luca Albertini, chief executive and founding partner of asset management company Leadenhall Capital Partners, agreed: "We stand ready to raise even more funds and even more appetite if people will want to actually buy the cover - buying the cover, for me, is the backbone of the resilience."
Data-backed modelling
Also speaking as part of the panel discussion was the chief executive of data provider Metabiota, Nita Madhav, who recently released a new case study on the company's early insights into the Covid-19 pandemic, helping businesses to pivot and adapt modelling in response to the lockdowns.
Sharing findings from Metabiota's case study on the epidemic detection system, Madhav expressed that considering the prospective view of risk is "very applicable" for the insurance industry.
She said: "It's impossible to overemphasise the importance of preparedness and early action to mitigate and reduce losses from these types of events. And the return on investment of these approaches is very high.
"Data and modelling are very important for quantifying the risk so that it can be managed more appropriately.
"With epidemics and pandemics, there is this cycle of panic and neglect and we really do have to move out of this reactive approach.
"Covid feels different; it feels like the collective experience will lead to lessons learned that will persist and we can move out of this cycle of panic and neglect."
Klint added: "I do believe that with the right focus there are many opportunities, so we can invest in cleaner, smarter, and more inclusive growth, but we have to work together and we have to take action now."