Hurricane Florence could cause somewhere between $2.5bn and $5bn of insured losses, according to differing catastrophe modelling estimates, but the storm's behaviour has proven difficult for models to predict
Hurricane Florence is set to cost insurers and reinsurers $2.5bn, according to an initial estimate from catastrophe risk modelling firm Karen Clark & Company.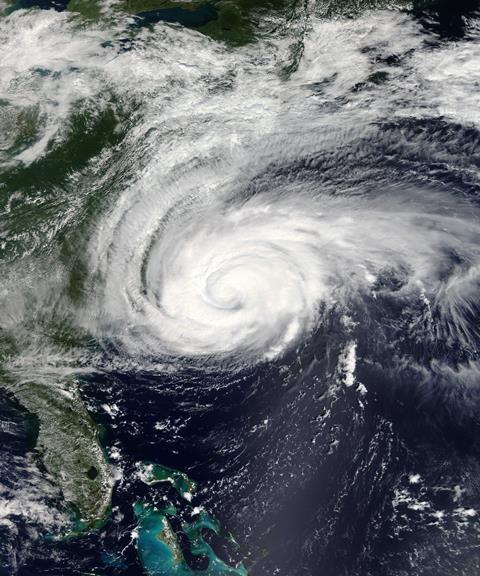 CoreLogic estimated that insured losses could be $3-$5bn, based on combining the historical data from category 2-strength hurricanes in the Carolinas against current property exposures.
"This estimate is for wind and storm surge, but does not include damage from flooding or rainfall, which could be extensive," reported credit rating agency Moody's.
KCC's lower insured loss estimate for Florence includes losses to residential, commercial, and industrial properties as well as automobiles.
However, it does not include losses sustained by the US government's National Flood Insurance Program (NFIP).
However, the NFIP bought $500m of flood reinsurance coverage from Hannover Re via its FloodSmart Re catastrophe bond, in place from August 1.
Fickle Florence
Changes to Florence's track and strength outfoxed weather forecasters and the re/insurance industry's catastrophe risk modellers as the storm approached its US landfall.
"Replicating Florence's characteristics is proving to be a challenge for the modelling firms," reinsurance broker JLT Re noted in its Catastrophe Activity Zone (CATz) blog.
Florence reached peak intensity on September 10 with 140 mph sustained wind speeds. The storm had initially been projected to track inland across the Carolinas with Category 4 wind speeds.
On September 11, Risk Management Solutions (RMS) could say there was an 80% chance of landfall, but was projecting several different potential tracks for the storm.
A combination of increased wind shear, land interaction with the US coast, and an upwelling effect caused Florence to weaken prior to making landfall.
On September 14, Florence made landfall in North Carolina with maximum sustained wind speeds around 90 mph.
As the storm slowly passed southwest over South Carolina on September 15, the hurricane weakened to a tropical storm and made a wide turn to the north.
Readily manageable
Florence will be "readily manageable" for property and casualty insurers, according to Moody's.
"We expect that insured losses will dampen third-quarter earnings for primary insurers, but will be readily manageable," said Moody's.
Charts from the Moody's report listing the biggest local insurers of residential and commercial property are included below.
Re/insurance rating agency AM Best said it expected most reinsurers to pick up losses from Florence, due to the highly syndicated nature of the property catastrophe business.
But the storm is unlikely to result in any "meaningful market hardening" to reinsurance pricing, according to the ratings firm.
"However, as noted before and after the catastrophic events in 2017, the vast majority of reinsurance companies maintain extremely strong balance sheets and have been stress-tested sufficiently to absorb significant catastrophic events," AM Best added.
Significant flooding
By September 16, Florence had become a tropical depression in northeastern South Carolina. Peak surge reached 10 feet in New Bern, North Carolina, and other areas of the state including Beaufort and Wilmington had significant storm surge impacts.
"Locations at the heads of shallow bays, where the water is more easily pushed ashore by a hurricane's high wind speeds, experienced the most coastal inundation," KCC said.
"Hurricane force winds were experienced only along the North Carolina coast, but tropical storm force winds were experienced across much of North and South Carolina. This led to widespread low level damage," continued KCC.
Almost one million households lost power due to falling trees and power lines. North Carolina, including Lumberton and Washington, experienced significant flooding driven by extreme rainfall rates as high as 30 inches in 24 hours.
"In addition to Florence's slow forward speed contributing to rainfall rates, parts of the storm's circulation remained over water as it began to move inland and provided the hurricane with a sustained source of water," KCC said.
"Flooding was also exacerbated by storm surge preventing rivers from draining into the ocean and increasing their susceptibility to overtopping," KCC added.