Homes need to be built 'in the right place and in the right way' to help make them 'more resilient to rising temperatures and an increased risk of flooding'
To tackle the "increased frequency of flooding and extreme weather events", the UK must focus on using property flood resilience (PFR) measures for building repairs as part of Flood Re's Build Back Better (BBB) scheme because currently, "resilience is not being prioritised", according to Flood Re chief executive Andy Bord.
Bord was speaking yesterday (7 November 2021) during a panel discussion at the 2021 United Nations Climate Change Conference, known as COP26.
The session, titled 'Investing and Insuring for Resilience – Managing Risks and Redirecting Capital into Resilience Enhancing Investments', also featured Michael Szoenyi, flood resilience programme lead at Zurich, Jon Wood, senior client manager at Aon and Astrid Zwick, head of Germany's insuresilience secretariat.
The discussion was moderated by Michaela Koller, director general of European insurance and reinsurance federation Insurance Europe.
As part of the session, Bord told around 600 in-person and virtual delegates that there needs to be a continued, long-term commitment to flood defences, including the use of natural flood management approaches.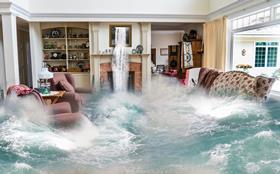 He emphasised that "we can't allow the problem of flooding to continue to get worse".
He said: "Homes need to be built, but they need to be built in the right place and in the right way.
"There needs to be transparency and enforcement to ensure that we do not end up with a housing stock that is less resilient.
"We need to inform householders about the risk their homes face so that they can assess how much they are at risk and what action can they take."
Building resilience
For Bord, part of the answer lies in using Flood Re's BBB scheme, which will be available through some insurers after April 2022.
The scheme aims to utilise the property repair process following flood damage to make buildings more resilience – this seeks to reduce both the cost and impact of future flooding.
This approach includes the implementation of PFR measures, such as self-closing air bricks, non-return valves and flood doors or barriers, which are designed to help protect against the impacts of future flooding.
Speaking after the COP26 panel session, Bord said: "Climate change is happening now - and it is only going to get worse.
"I applaud the efforts taking place in Glasgow to reduce emissions to meet net zero, but we need to urgently adapt now to the increased frequency of flooding and extreme weather events. Resilience is not being prioritised.
"There is a growing need for continued investment not only in flood defences, but in measures to adapt homes and communities to make them more resilient to rising temperatures and an increased risk of flooding."