It means that policyholders can be paid their claim on the same day
Insurtech FloodFlash has set a new catastrophe claims record during Storm Christoph with the fastest one so far, taking just nine hours and 44 minutes for a full settlement.
Storm Christoph has swept through England and Wales with wind, snow and flooding this month, adding further strain on the UK as it battles the ongoing coronavirus pandemic.
It is the third named storm of the year, with over 350 live flood alerts have been issued to date, PwC have estimated that losses will range from £80m to £120m.
FloodFlash co-founder Adam Rimmer said: "During a time of great financial stress for businesses everywhere thanks to covid, getting cash to clients quickly has never been more important. FloodFlash is setting the standard for fast, transparent claim payments.
"We reduce the time it takes to pay a catastrophe claim from months down to hours. In doing so we reduce client uncertainty, claim values and insurer costs. This is the future of insurance."
It follows Zurich calling on the government last week to overhaul the "broken" flood grant system to protect residents' omes and mental health.
Smashing records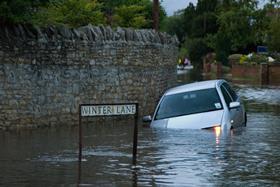 Previously the record for fastest property flood claim was 26 hours and 15 minutes which was set by FloodFlash during Storm Ciara in February 2020.
FloodFlash uses parametric cover to provide pay-outs to policyholders. The insurtech installs an internet-connected sensor that measures flood depths at the insured property which wirelessly sends it to FloodFlash.
When these flood depths reach the pre-agreed level, FloodFlash manage the payment.
FloodFlash's Internet of Things (IoT) sensors began to detect floods on Wednesday 20 January triggering claims across the UK using this method to validate it.
It resulted in clients receiving the money on the same day that their property flooded.
There is no loss adjustment with parametric insurance as FloodFlash claims happen remotely, removing the risk of Covid-19 transmission from the site visits that are required in traditional flood claims.