Insurance DataLab unveils which lines of business are proving most profitable for Gibraltar-based insurers using its unique underwriting rating methodology
Insurance in Gibraltar is a growing market, with insurers based in the country reporting gross written premium (GWP) totalling more than £5.3bn for 2020/21, up from £4.6bn a year earlier, according to analysis from data insight and consultancy service Insurance DataLab.
Despite this financial growth, the ramifications of the Covid-19 pandemic continue to rumble on, with high levels of uncertainty still impacting individual Gibraltarian insurers and their underwriting results.
New research from Insurance DataLab, published exclusively in Insurance Times, has sought to more closely explore underwriting performance in this market.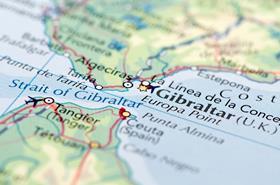 The data insight firm has therefore analysed the performance of insurers across the Gibraltarian insurance market based on three key metrics, to award insurance businesses an overall underwriting rating.
The metrics studied include each insurer's combined operating ratio (COR), their three-year aggregate COR and the improvement in the COR over the course of the last year.
An aggregate score has then been calculated for each of the eight separate business lines that make up the Gibraltar insurance market in 2020/21.
Accelerated motor performance
Across all business lines, Gibraltarian insurers reported an aggregate COR of 62% for 2021, up from 58% a year earlier. This was, however, still down on the 66% aggregate COR achieved in 2019.
Gibraltar's largest line of business by GWP is motor insurance, which accounts for almost 86% of the market's overall business. With GWP for this line totalling £4.5bn for 2020/21, it is this market segment that is one of the main drivers of increased performance for insurers on the Rock.
Gibraltarian motor insurers picked up an aggregate Insurance DataLab underwriting rating of 64% for 2021, up from 58% a year earlier and 60% for 2019.
This positive underwriting performance trajectory was driven by an eight percentage point improvement in the aggregate loss ratio (55%) after net claims incurred by Gibraltarian motor insurers fell by 8% over the course of last year.
This reduction in claims was underpinned by the drop off in driving miles due to the Covid-19 pandemic.
Indeed, figures from car insurance provider By Miles found that, as of November 2020, UK drivers - which account for the majority of the Gibraltarian insurance market - had reduced their weekly mileage by as much as 550 million miles as a result of working from home during the pandemic.
Furthermore, a December 2020 study of 2,000 British drivers by insurer Direct Line found that 55% of respondents were driving fewer miles than they did before the first Covid-19 lockdown.
These changes are, however, expected to be relatively short-lived, with driving miles already beginning to rise again, leading to a subsequent rise in accidents and claims.
And if - as expected - driving miles continue to remain below the pre-pandemic average, the insurance market could see an increase in the popularity of reduced mileage policies. In turn, this will apply downward pressure on premium levels and could serve as a potential brake on future underwriting profitability.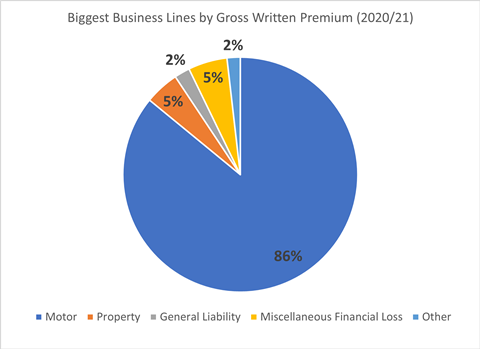 Regulation will also have an impact on any motor insurance policies Gibraltar insurers underwrite for UK motorists, following the FCA's general insurance pricing practices reform coming into effect at the beginning of 2022.
This has banned price walking, meaning that insurers now need to offer the same rates to existing customers as they do for new business.
This will undoubtedly lead to lower renewal prices for motor insurance customers and will create a challenging environment for insurers with a large back book that have previously practiced price walking.
Data from market research company Consumer Intelligence suggests that many renewing customers will, somewhat counterintuitively, be more likely to shop around for motor cover when faced with a substantially lower renewal premium compared to last year.
On the flip side, new business rates are expected to increase, but with competition for customers expected to remain intense, there could be a number of players – particularly at the smaller end of the market – looking at the FCA's changes as a way of winning market share from some of their more experienced competitors.
The new pricing rules could therefore represent a significant opportunity for new motor insurers that have established themselves in Gibraltar in recent years, but it will, of course, also add pressure to CORs in a product line that has traditionally found underwriting profit hard to come by. It would not be surprising to see motor insurance slip back down the underwriting rankings next year.
About Insurance DataLab

InsuranceDataLab.com is a new data insight service, focusing on the performance of insurers, Lloyd's syndicates, MGAs and brokers based in the UK and Gibraltar.
With hundreds of thousands of data points covering almost £100bn in annual gross written premium and featuring more than 700 insurance companies and brands, InsuranceDataLab.com provides access to comparable industry data to help benchmark performance, assess existing and potential partners, and identify new opportunities.
Financial loss improvements
The second biggest business line in the Gibraltar insurance market is miscellaneous financial loss, with premiums totalling £281.8m - equal to around 5% of overall premiums.
This business line has also experienced an uptick in performance over the last 12 months, with its Insurance DataLab underwriting rating rising six percentage points to 68% for 2021.
This compares to scores of 62% and 61% for 2020 and 2019 respectively.
The underwriting performance of miscellaneous financial loss insurers benefited from a one percentage point reduction in the aggregate COR to 93% after net claims incurred fell by six percentage points to £140.2m for 2020/21, versus £149.5m in 2019/20.
This drop in claims led to a four percentage point improvement in the business line's loss ratio to 57%, although this was partially offset by a three percentage point worsening of the expense ratio to 36%.
Property profit slump
The third biggest business line for insurance business underwritten on the Rock is property insurance, accounting for just under 5% of overall business and having GWP totalling £248.2m.
Property insurance was also the market's most improved line of business.
The aggregate Insurance DataLab property underwriting rating stood at 62% for 2021, some 10 percentage points better than the 52% rating for 2020. This is, however, still one percentage point less than the 63% aggregate rating the business line received for 2019.
Despite this improvement, property insurers in Gibraltar still fell to an underwriting loss for 2020/21, with an aggregate COR of 105%.
Indeed, of the 14 Gibraltarian insurers that wrote property insurance business in 2020/21, only five managed to report an underwriting profit.
The only other business line in Gibraltar to report more than £100m of GWP was general liability insurance, with Gibraltarian insurers bringing in GWP totalling £112.3m – equal to around 2% of total premiums.
Insurers in this business line picked up an aggregate Insurance DataLab underwriting rating of 70% in each of the last three years as they continued to turn in consistent underwriting results, reporting an aggregate COR of 86% for both 2020/21 and 2019/20.
Other business lines underwritten in Gibraltar include credit and surety, which received an aggregate underwriting rating of 61% for 2021, assistance (72% – the highest rating in this analysis), marine, aviation and transport (19% – the lowest rating in this analysis) and income protection (65%).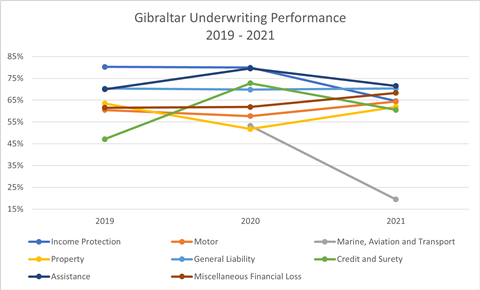 Methodology
Underwriting performance metrics have been calculated using Insurance DataLab's analysis of insurer Solvency Financial Condition Reports (SFCRs), which takes into account both short and long-term performance covering the last three years of underwriting. The three metrics used to calculate the overall Insurance DataLab underwriting ratings are:
Combined operating ratio (COR): Insurance DataLab has calculated the COR as the amount paid out in claims and expenses as a proportion of net earned premium, with a sub-100% COR representing profitable underwriting.
COR improvement: To account for improvements in underwriting performance over the last 12 months, Insurance DataLab has also calculated the improvement in COR compared to the previous year.
Three-year aggregate COR: Assessment of long-term performance has been made using the three-year aggregate COR, which is calculated as the aggregate amount paid out in claims and expenses over the last three years as a proportion of net earned premiums over that period.
Each metric has then been standardised to create a percentage score for each insurer, with a weighted average used to create the overall rating.