As the market continues to soften, money from pension funds is streaming into insurance-linked securities. But are these investors prepared to withstand the impact of a major catastrophe?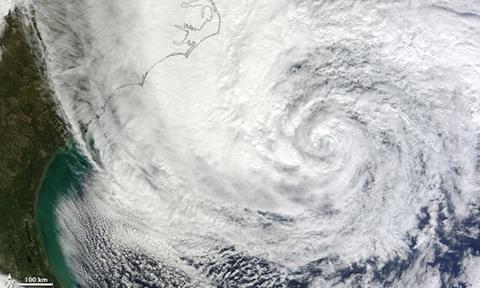 Reports from the 1 July renewals show that the trend of convergence capital entering the reinsurance markets and softening rates shows no sign of abating.
And the market continues to soften, despite above-average catastrophe losses of about $20bn in the first half of 2013. Guy Carpenter estimates that convergence capital now accounts for $45bn of the global property catastrophe limit, or about 14% of the market.
A significant portion of this capital appears to be deployed by pension funds attracted to insurance-linked securities (ILS), and there are questions over the impact this capital is having on the traditional reinsurance markets, globally and in Bermuda.
Some commentators have voiced concerns about how pension fund investors would weather a major hurricane loss. Who are these investors? What are their motivations for getting into ILS? And what would happen if they suffered a significant loss?
Guy Carpenter says robust catastrophe bond, sidecar and collateralised reinsurance activity throughout the year has for the first time pushed pricing in the capital markets to "decouple" from levels set by the traditional market, which has prompted downward pressure on overall traditional market pricing. "Through 1 July, we saw $4.2bn of property/casualty catastrophe bonds issued, risk capital outstanding likely reaching an all-time high of $16bn, deal books marked with oversubscription and increased risk profiles in books of business and triggers," it said.
Pension funds and other institutional investors are seeking to diversify their equity portfolios into non-correlated assets. Willis Re also says reinsurers are having to take robust defensive measures to maintain market positions recently eroded by new capital markets entrants.
Meanwhile, collateralised markets have continued to evolve, offering primary buyers increasingly flexible cover and minimising their basis risk. Willis Re chairman Peter Hearn says: "The trend for traditional reinsurers to set up sidecar-type structures, providing third-party capital access to the risk they are accepting, continues.
Similarly, the catastrophe bond market continues to grow and is on track to surpass the previous record issuance of $7.2bn in 2007. With the strong inflow of new funds, the challenge for ILS fund managers is how to source enough demand to satisfy investor demand for ILS products."
Swiss Re says pension fund investors played a significant role in investing in index-linked cat bonds throughout 2012 and formed part of this pattern of increased stability. At a briefing earlier this year, the reinsurer's head of non-life risk transformation, Martin Bisping, predicted that increasing levels of stability in the ILS investor base could be "a game changer" for the industry.
Swiss Re research showed that in an index-triggered catastrophe bond issued in 2012, pension fund investors took a direct 14% share and asset managers bought 17% of the sample issuance. This is well up from 2007, when asset managers took up just 12% of the same transaction.
Second wave
US pension funds in particular are starting to become more interested in the sector, following in the footsteps
of pioneering funds in Canada, Australia, New Zealand and Europe. Pension funds now playing in the ILS space include the Ontario Teachers' Pension Plan, Ohio SERS, NZ Superannuation, the San Antonio Fire & Police and the BBC Pension Trust.
They invest through a number of methods, with some relying on in-house managers and others using ILS managers such as Nephila Capital, DaVinci Re or Twelve Capital.
In response, some Bermudian reinsurers have set up fund management arms. DaVinci Re belongs to Renaissance Re while Montpelier Re has launched Blue Capital Global Reinsurance Fund. The latter allows institutional and retail investors to access the global catastrophe reinsurance market. However, the size of the reinsurance sector may prove a limiting factor as it is dwarfed by the $27tr of pension assets.
And of course a rise in ILS is positive for Bermuda, a major ILS centre. Since amendments were made to the island's law in 2008, it has become the jurisdiction of choice for the incorporation of sidecar and transformer entities and collateralised reinsurance or retrocession vehicles. In 2008 amendments were implemented to Bermuda's Insurance Act to create a new class of insurance company known as special purpose insurers.
AM Best Europe managing director of analytics Stefan Holzberger says demand from investors for ILS is far outstripping demand. "There is great demand in the market for cat bonds and industry loss warranties, mostly originating from hedge funds, pension funds and private equity," he says.
"The premise is that insurance-linked securities are not highly correlated to other asset classes and offer appealing returns compared to other fixed-income investments. Currently, demand for these investments far exceeds supply. This has brought the pricing down for natural catastrophe risks, especially in the US."
The issue of non-correlated asset classes needs to be thought through
He adds: "It should be noted that capital market interest in reinsurance is limited to cat risk."
Holzberger cited alternative capacity and third-party capital as factors in the reinsurance industries' strong capitalisation. Reinsurers have too much capital on their hands, he said, which is a "good problem".
Fears that these pension funds might flee after a major catastrophe event were recently given public voice by Warren Buffett's reinsurance operation General Re. Chief executive Franklin 'Tad' Montross says pension funds may well make a sharp exit from the reinsurance market in the event of a major natural disaster.
Speaking at a recent conference, Montross said: "What happens after the $150bn earthquake, when Nevada is basically coastline to the Pacific? This whole issue that it's a non-correlated asset class, which makes it so attractive as people look at their risk-return profiles, is one that needs to be thought through very carefully."
The scenario may seem extreme, but covering extreme scenarios and once-a-century catastrophes are exactly what cat bonds are for.