Fresh thinking and converging insurance technologies are adding up to a revolution in the re/insurance sector, exemplified by GR's Innovation & Insurtech 2018 event in Bermuda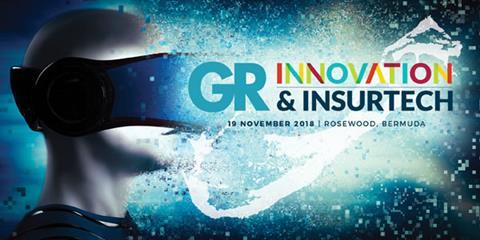 It was entirely fitting that Bermuda played host to GR's Innovation & Insurtech 2018 event, held in November. The island hub is continually full of the noises of innovative thinking and breaking fresh ground in the re/insurance world.
Premier of Bermuda David Burt, MP, was keen to underline the importance of innovating to stay ahead of rivals in an increasingly competitive re/insurance world. Bermuda's regulatory environment as a jurisdiction of choice for re/insurance needs to keep pace with insurtech, Burt emphasised.
"It's important to innovate and stay ahead. Staying ahead has always been crucial to Bermuda's success," he said. "We need to look at process; we need to look at how we do things; and how we make it more efficient."
Burt pointed to the Bermuda Monetary Authority's (BMA) insurance regulatory sandbox created this year, via the Insurance Amendment Act 2018, to test insurtech applications prior to rollout. He lauded the close working relationship between Bermuda's government, its regulatory framework, and the island's re/insurance industry.
"It's unique to Bermuda that the government, the regulator and the industry work together so well. For the companies that want to be here…we want to continue to ensure that there is an ecosystem for them," Burt added.
Bermuda does seem to be benefitting from a number of new cyber underwriting players, speakers noted. Ari Chatterjee, who spoke on the afternoon cyber risk panel exemplified this innovative streak. Chief underwriting officer for Envelop Risk, the start-up firm focuses on using artificial intelligence (AI) and machine learning to underwrite cyber risks.
Much of the talk at the event focused on working with insurtech startups. Jacqueline Lesage Krause, managing director of Munich Re and HSB Ventures, suggested it was not a coincidence that a plethora of insurance startups are setting up as managing general agents (MGAs).
"Being an MGA is just the go-to market strategy. They've figured out where they need to sit to have the most control of their future and have the least capital at risk at the same time," she said.
Krause had some advice for partnering with venture capital (VC) funded startups. "Understand their perspective, use the word collaboration a lot, and understand their timeframe," she said. "We're looking for companies developing something people want."
Most VC funding is dependent on seeing results in 12-18 months, she warned, and if a start-up firm is not focused on such an investor-set timetable, they may not be the best match anyway. "Whatever they're doing with you needs to be provable in that timeframe. If you're taking 9 months to go through procurement, that is not helpful," she added.
The AI revolution
AI was a recurring theme throughout the day. One of its greatest practitioners provided a masterclass in how this tool will transform the way insurers – and humankind for that matter – will make use of information.
By 2020, data recorded globally each year will be growing at an exponential rate of 4300%. IBM Watson's chief technology officer Rob High focused on this exponential growth of data, emphasising the role AI will play in making use of all this new information, just as farming tools and hydraulic machinery previously amplified human capabilities in the agricultural and industrial revolutions.
"Imagine what it would have been like to do that same work without those tools. And that's the case with data and AI," High told attendees. "The growth of data in our world is mind boggling. It's quick to realise that we can't keep up with it all. If we can take AI and augment human cognition, think of the power that brings to the table."
He noted that smart phone usage would likely rise to only about 7.5bn devices globally, but that the Internet of Things will lead to increasing volumes of data from some 15bn other non-mobile intelligent devices – washing machines, cars, fridges and TVs. "That figure is set to reach 55bn by 2022," said High.
Tech spending on the rise is part of a broader trend among insurers recognising that their industry is not just about paying claims and transacting and renewing business, but instead moving towards a services model that includes advisory and risk mitigation services.
"Insurance is stepping much more and more into being an advisor, rather than a payer in this ecosystem," said Sudha Meghan, co-founder and CEO of RozieAi, one of several AI start-ups at the event. "Individuals and corporate entities are willing to shift business to those organisations that want to be their trusted advisor," she added.
Cost benefit
Technology plans are being rolled out at pace, despite a tough catastrophe loss claims environment and a merger-heavy market environment in 2017 and 2018, panellists highlighted. Re/insurance firms are looking to technology to increase revenues as well as reduce operational costs, according to a panel debate on the changing re/insurance world.
Laura Taylor, Nephila Capital's chief financial officer, said the company was more focused on driving growth than finding business savings. "Really, we're looking at revenue growth, about how we grow top line and keep expenses constant. We're much more focused on revenue generation than on cost savings," she said.
The industry is moving towards common technology platforms, noted Stephan Ruoff, CEO of Tokio Millennium Re, which was itself recently acquired by a new owner. Ruoff pointed to Lloyd's but added that progress has been "slow" and "transactional", rather than, for example, making a more comprehensive shift towards AI methods in underwriting.
"We're not seeing AI driven more broadly. We've not seen proper portfolio selection done by AI deeper than our own knowledge or drawn by data deeper than what we're using today. For every executive management board, technology should be high up their list of priorities," said Ruoff.
John Racher, head of UK operations at AdvantageGo, said there were not many big technology deals going on. "We get more requests to augment what's already there and to provide discrete components. The projects we're seeing interest in are not transformational deals," he said.
Racher thought firms are not looking at short-term technology projects to produce marginal gains here and there, rather than an over-arching long-term strategic overhaul. "It is looking at the long term but the way to get there is to look at short-term fixes. Associated with that we are seeing a lot more technology partnerships…to make that change rather than a company building something on its own," Racher added.
Ruoff said Tokio Millennium had built a cloud-based ILS portfolio platform, which "bought down operating cost significantly". He suggested firms should not need to think about how their platforms are handling data for risk selection and optimising portfolios.
"It should just do it, it's just an enabler. I worry we're still an industry that looks backward about how to fix how it's operated in the past. We should be forward looking, and looking to our data for risk selection," he added.
Racher described a dive towards underwriting discipline that is putting emphasis on what technology can do. "Underwriters want to have the very best technology to achieve that. Clearly there's pressure on capital and top line growth, the market is soft, and underwriting discipline is at the very top of priorities," he said.
The heavy claims environment has provided an opportunity to show just how much technology can save on operational costs, for those firms that have made the investment.
"It costs the industry millions of dollars to send adjusters to find out things such as medical expenses," said Adrian Bentley, managing director of reinsurance analytics firm Analyze Re. "It's a huge saving if they can eliminate 20% of those house calls and doctor consultations by using AI to predict the worst claims."
However, using AI for predictive analytics, to prevent claims from happening, is a bigger focus, Bentley suggested. "Preventative is where I would say people are focused," he said. "Look at this from a combined ratio standpoint. Everybody's eyes are on areas of efficiency. Declining premiums are affecting the bottom line, and AI can look at how we make ourselves more operationally efficient."
Despite the tough market environment, technology spending is sometimes not as disciplined as it ought to be, Taylor suggested, given the efficiencies in mind.
"A lot of companies make these technology investments but don't do a true analysis," Taylor warned. "They should be doing a cost/benefit analysis with a five-to-ten-year timeline to focus on making their money back. They should be asking 'how can I use this efficiency to make more money?'"
Board the train
Positive culture, particularly at team level, is necessary for innovation to take root. Pina Albo, CEO of Hamilton Insurance Group, hosted an inspiration injection panel to discuss the ideal conditions for fresh thinking to thrive within re/insurance organisations.
Krause contributed: "Corporate innovation is about survival and speed. There's a train coming: you can get run over by it; you can move out of its way; you can get on the train; you can even drive it."
Warnings to laggards continued. "If you're too timid, you'll get left behind," warned Ann Petley-Jones, founder and owner of PetaData. "If you're too aggressive, and imagine something that is not there, you will fail."
Karen Morris, a strategic advisor specialising in innovation strategy and execution, and an ex chief innovation officer at AIG, noted that teams, not individuals, are the crucial unit of innovation. Too many disparate ideas can be a bad thing, the panel agreed, and most failures occur before their application. Questions can be more important than answers, she suggested.
"There are many genres of innovation," said Morris. "Disrupt what? Why? There are very careful choices to make about the nature of the innovation play you make. What are you doing it for? We get really excited about the 'what' questions, but the 'why' question is more important."
Talk about disruption is all too often poorly thought through, according to Morris. Too much focus on what can be done – without asking why – is a common pitfall of innovation efforts, she emphasised.
Companies need to ask themselves what they are trying to change, she said, focusing on what clients want, rather than seeing problems from their own perspective, within an insurance bubble.
"There's so much excitement in throwing around the topic of disruptive innovation. It's like the problem of the guy who read half the book on a plane," said Morris. "Nobody wants your goods and services – what they want is an outcome."