A chance to be published in GR and to win an iPad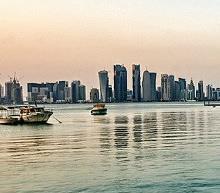 GR and the Qatar Financial Centre has today launched its first-ever essay competition today to celebrate the 8th annual Multaqa Qatar.
The aim of the essay writing contest, which is supported by the MENA Insurance CEO Club, aims to provoke debate and intelligent analysis on the future of insurance in the MENA region.
The competition is open to insurance and reinsurance professionals based in or doing business in the region.
The winning entry will be chosen by the following:
Yassir Albaharna, chief executive, ARIG
Jack Grocott, editor, GR
Akshay Randeva, director, strategic development, Qatar Financial Centre Authority
Dr Kai-Uwe Schanz, partner & chairman, Dr Schanz, Alms & Company
Sivam Subramaniam, editor-in-chief, Asia Insurance Review & Middle East Insurance Review
Essays, which should not exceed 1,000 words (excluding references and footnotes), are to be on one of the following three topics:
The role of regulators in facilitating sustainable premium growth in MENA: Promoting capital adequacy, risk management standards and market discipline
Boosting insurance penetration in MENA: Improving contributions from key stakeholders (governments, regulators, associations, etc.) and product innovation
Risk fronting/trading versus risk taking: Challenges and opportunities for reinsurers, insurers and insureds.
Essays, which will also be judged on style and grammar, should be sent in Word format to jack.grocott@nqsm.com. The competition closes on 23 February 2014.
The winning article will be announced on 11 March at Multaqa and will be published in the summer issue of GR magazine.The winner will also be invited to write a follow-up article to be published in the Monte Carlo Rendez-vous special issue of GR, and take home an iPad Mini.