A lively discussion about the transformative technologies at play in the re/insurance sector was held at the Hotel Hermitage for GR's roundtable event in association with the Dubai International Financial Centre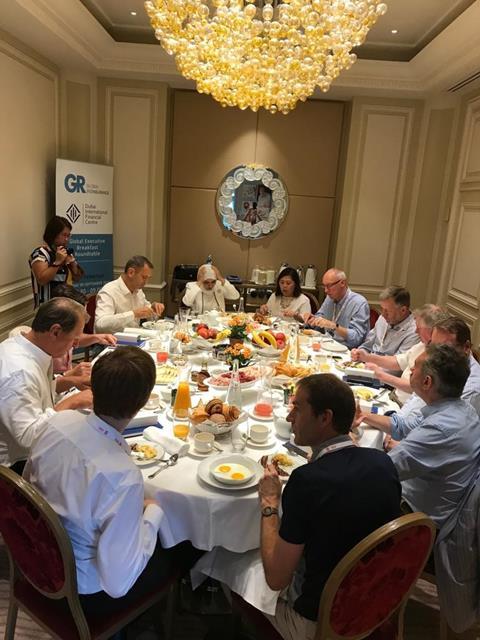 The topic of how insurtech is disrupting and changing reinsurance was hotly debated at the Monte Carlo rendezvous yesterday in a roundtable hosted by GR in association with the Dubai International Financial Centre.
There was debate about why innovations have so far not focused on the large property catastrophe market responsible for the bulk of reinsurers' underwriting revenues.
"I find it very puzzling," one participant said. "The innovations are all in aviation or cyber, but no one is tackling where the most money is being made, which is property cat.
"We're doing all this artificial intelligence (AI) and blockchain work, which is fantastic, but not in the element where reinsurance is most prevalent."
The room suggested with the technology available there should now be a universal database of every property.
"The idea that we are individually entering all this property information a thousand different times and remodeling the same property is ridiculous, and I don't know why that hasn't emerged," one participant said.
Self-interest and cost were posited as reasons why such a tool had not yet been developed. But another attendee noted the lack of technological innovation in property cat was because of the huge sums already being made encouraged laziness in innovation.
Other classes were under greater pressure and therefore technology was required to transform those classes, the panelist suggested
"In property cat the money is too easy, so people don't need to innovate," they said. "They can have a profitable life by cruising along."
However, they said all players in property cat should still be looking to drive a change.
Despite wide agreement on this point, there was a debate on how relevant property cat will still be to the reinsurance market in ten years' time.
By 2030 the "big risks" will be intangible risks, in a shift already taking place away from the "bricks and mortar" traditional risks, towards intellectual property theft, cyber risks, reputation harm, non-damage business interruption and other intangible threats.
"Intangibles will be the story of the next generation, and that market is going to be entirely technology-driven if we are to understand those risks at all," they said.
Several attendees echoed the point, claiming that some multi-national clients only put 10% of their exposure into the market due to an inability to get adequate cover for such intangible risks.
Others in the room said the re/insurance industry had never been good with intangibles.
One attendee said that the space between physical and intangible risks is shrinking, as the internet of things links so many risks together – bringing vast amounts of data, which will in turn put more onus on AI.
"It's a self-fulfilling prophecy because it's all so interlinked now," they said. "The idea there will be a physical world and intangible world by 2030 is wrong – the two are becoming the same."
Global Executive Breakfast Roundtable participants:
David Piesse, chief risk officer and on the advisory board of Guardtime
Greg Richardson, chief risk and strategy officer at Trans Re
Greg Carter, managing director – analytics at A.M. Best
Jonathan Spry, co-founder and chief executive of Envelop Risk Analytics
Laurent Lemaire, founder and chief executive of elseco
Matthew Fosh, chairman of Axis, Europe
Marc Beckers, head of EMEA, partner, at TigerRisk
Simon Burtwell, partner insurance at EY
Gracita Aoa-de Gracia, senior manager – insurance and reinsurance at Dubai International Financial Centre Authority
Khadija Ali, chief representative – business development segments at Dubai International Financial Centre Authority
David Benyon, chair and consulting editor at Global Reinsurance