Storm to blow out inside 36 hours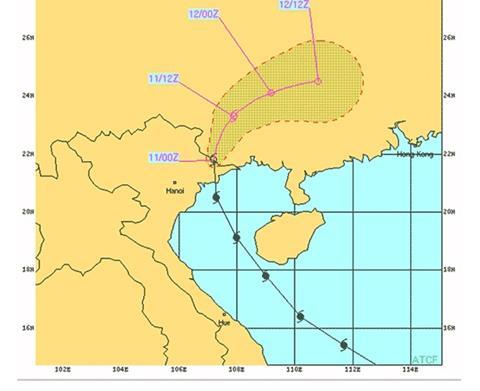 Typhoon Haiyan weakened to a category one typhoon before it hit Vietnam yesterday, according to EQECAT.
Initial damage reports indicate that at least 13 people have died and 81 have been injured in Vietnam.
The typhoon then weakened to a tropical storm and headed north towards Gaungxi, south China.
In China, around ten people died and seven more are missing in Hainan and Guangxi provinces. Moderate rainfall of about four to eight inches, with flooding in pockets of areas is expected from this event in Vietnam and China.
However, Haiyan is not likely to cause significant insured loss in Vietnam and in China. EQECAT said that the aggregate insured loss from this event is not expected to exceed $100m, but that there is still the chance of high value single facility insured loss.
The storm is rapidly weakening as it tracks further inland and is forecast to dissipate over land in about 24-36 hours.
Haiyan could be the deadliest storm to hit the Philippines. The death toll is expected to be nearly 10,000. Some areas are completely inaccessible, and, once officials have access to these regions, the death toll is expected to be higher.