Issue has rocketed up the agenda of politicians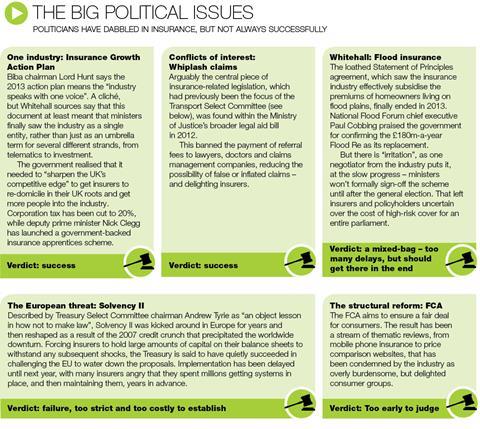 Five years ago, insurance barely registered on the radar of the then-new coalition government. Since then, the industry has seen more change than in the 1980s – with more likely to come, writes GR's sister title Insurance Times.
With the country in the depths of a financial crisis in 2010, banking was the first issue addressed in the UK government's coalition agreement.
"Reform of the banking system" was crucial, while semi-privatising Royal Mail and even "honesty in food labelling" were in the consumer protection and business sections of the 36-page document forming the basis of the first coalition since the Second World War.
Only in referring to plans to reform financial regulation was there even the slightest hint that the insurance industry had been discussed in any way.
Conservative backbencher Brian Binley, who sat on the All-Party Parliamentary Group on Insurance and Financial Services, says: "Insurance was not seen as a major problem. Banking was, pensions were, as was welfare reform."
Chartered Insurance Institute president Ashwin Mistry agrees: "We, as an industry, employ 300,000 people, but politicians don't know these things. Why should they? Generally we were left to our own devices – unless there were big issues."
Yet there were plenty of those and, arguably, the industry has gone through its greatest period of change since the 1980s when the Lloyd's Act overhauled governance of the London market.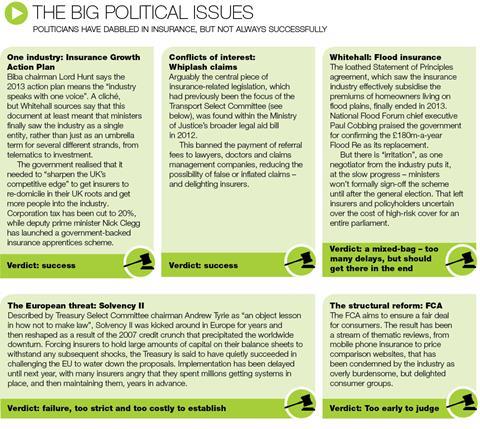 Click here to read a larger version
A Conservative MP from that era who later entered the Cabinet under John Major, Biba chairman Lord Hunt, even points out that insurance is far more integral to the financial system than during the boom and busts and marketisation upheavals of the 1980s.
"The difference is that London is now the centre for insurance and reinsurance. We're the global player," he says.
Committee scrutiny
Insurance did not cause the financial crisis, but the resulting reforms, such as establishing the FCA, have had major ramifications for the industry.
Chris Leslie, prospective Labour chief secretary to the Treasury, points out how insurance entered the coalition years facing the draconian Solvency II capital requirements.
Finally, select committees gained new clout as the chairmanships were no longer in the gift of party whips.
They could investigate what they liked – and one, Louise Ellman, head of the Transport Select Committee, focused on the cost of motor cover.