After months of drought, parts of the Mississippi are nearing flood stage – AIR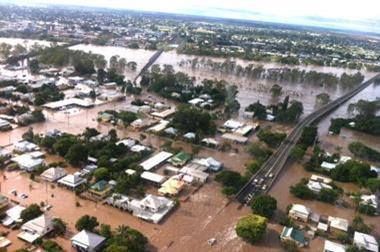 Heavy rainfall, severe thunderstorms, and flash flooding tore across several Midwest states early last week, after moist air surged ahead of a strong cold front and low-pressure system.
While the worst of the rainfall has passed, many rivers are still swollen. Flood warnings remain in effect from Michigan to northern Arkansas and Tennessee.
The floods have inundated crops and delayed the 2013 corn and soybean planting season, which could shorten the growing season. It is still too early to assess the production risk and chances of potential losses later in the season.
Illinois has been particularly hard hit with almost 7in of rain measured at Chicago O'Hare Airport in 24 hours. Flooding has backed up drainage systems and caused transportation disruptions across the state and a state of emergency has been declared.
According to AIR, following months of drought, parts of the Mississippi River are nearing flood stage and communities located along the river are closely monitoring water levels. The US Army Corps of Engineers anticipates that the river will crest at 35ft on Tuesday as compared to the 2011 Great Mississippi River Flood when the river crested at almost 48ft.
The flooding began when a persistent weather pattern brought tornadoes, hail, damaging winds, and large quantities of precipitation. This potent area of low pressure developed over northwest Texas on Tuesday night and tracked northeastward toward the Great Lakes over the course of the following three days.
In addition, a steady stream of warm, humid air from the Gulf of Mexico ahead of the system provided ample moisture for heavy rains to move over Missouri, Iowa, Illinois, Michigan, Indiana, and western Kentucky and Tennessee.
Another system moving southward from Canada will bring more heavy rain and snow into the Northern Plains. This could bring the possibility of additional flooding.
In the US, residential flood insurance is typically offered to homeowners only through the National Flood Insurance Program.