Paul Brand and Stephen Catlin have launched a $1.8bn re/insurance start up, named Convex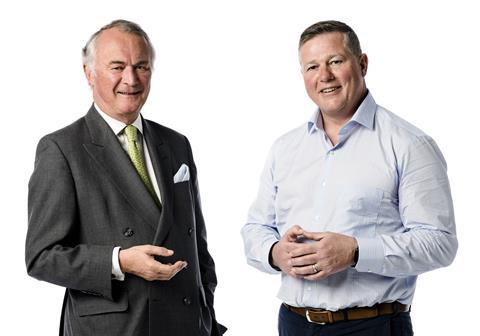 Stephen Catlin has announced his return to the commercial re/insurance game with a new company called Convex.
Catlin is back in the CEO role with the launch of the new $1.8bn private equity-backed venture, with offices in Bermuda and London.
He is partnered with Paul Brand (pictured, right, alongside Catlin, left) as his deputy, tipped to take over from 64-year-old Catlin in due course.
Onex Partners has backed Catlin with $750m of financing, for ten years.
The private equity group has previous insurance form, financing York Risk Services and backing the comeback vehicle for another re/insurance veteran, Pat Ryan's hybrid broking/underwriting venture, Ryan Specialty Group.
Today's launch comes four years after Catlin sold his eponymous London market insurer, which he founded in 1984, and where Brand worked with him previously, to XL Group for $4.1bn in 2015.
The London market entity that resulted from that merger, branded as XL Catlin, was in turn swallowed up by French insurer Axa in its takeover of XL Group, announced last year, with XL Group's entities now collectively known as Axa XL.
Catlin called the re/insurance "grotesquely inefficient" at processes and distribution in comments made to the FT, referring to high expense ratios at traditional re/insurers, saying Convex would instead outsource "everything that doesn't need human intervention".
"There are too many snouts in the trough. We have the opportunity to do a greenfield and avoid the legacy process costs," Catlin said.
After years of falling pricing and increasing supply, at recent reinsurance renewals capacity levels deployed by the industry have stalled, causing increased demand and resultant price rises in some key property, casualty and specialty re/insurance lines.
"This is a once in a lifetime opportunity. Headwinds have turned into tailwinds," Catlin added.
Ratings update from AM Best
AM Best has assigned a financial strength rating of "A-" (excellent) and a long-term Issuer credit rating of "a-" to Convex Re's Bermuda and UK holding company subsidiaries.
The rating agency put a stable outlook on these ratings.
"The ratings reflect the strategic importance of Convex UK and Convex Re to the Convex group, Convex's consolidated balance sheet strength, which AM Best categorises as very strong, as well as the group's adequate operating performance, limited business profile and appropriate enterprise risk management.
"Convex UK will be the group's UK-based specialty insurer and will be the principal contributor of premium income. Convex Re is the group's Bermuda-based reinsurer. In addition to writing third-party reinsurance, it will provide reinsurance protection to Convex UK," said AM Best.
"Convex is a new entrant in the competitive specialty re/insurance sector. The group has been capitalised initially with approximately $1.6bn of common shareholders' equity, drawn from a $1.8bn facility provided by a consortium of investors, including funds managed by Onex Corporation, a private equity investor and manager with a track record of investing in the insurance industry," the ratings firm added.