A new report from the London Market Group is a rallying cry to address the skills challenge facing London's re/insurance market
The skills gap facing the London market as it tries to digitise its business model are the subject of a new report issued today by the London Market Group (LMG).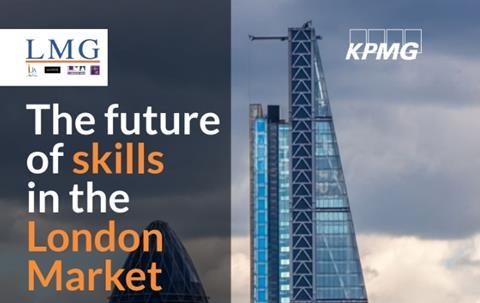 London's re/insurance market has a "once-in-a-generation opportunity" to get the right skills in place to succeed at digitisation against its global rivals, emphasised the LMG's study, sponsored by consultant company KPMG.
Three main points were identified in the rallying cry of a report, named "The future of skills in the London Market" from the LMG, which represents the various industry stakeholder groups within the London market.
The skills gap is wide between where the London market is now and where it needs to be in the future. The successful future workforce will need to be adaptable, curious and tech-savvy, the LMG said.
Organisations should re-design for a digital age and create an agile culture that promotes flexible working, varied career structures and one where new projects are launched without restrictive approval processes, emphasised the LMG.
Future leaders need to be brave, understand and embrace the opportunities offered by technology and empower their people to be creative and develop new products and services to meet the ever-changing needs of their clients, urged the report.
"It is a truth almost universally acknowledged that our market is on the brink of fundamental change. The risks we are protecting against, the companies we are dealing with, the tools we are working with – everything is shifting," commented Matthew Wilson, group CEO, Brit Insurance, sponsor of the LMG's Talent Strategic Initiative.
"We have begun the process of digitisation and there will be more to come with AI, robotics and big data. These developments and overarching societal shifts offer us a once-in-a generation opportunity to reinvent our marketplace," Wilson said.
Paul Merrey, partner leading KPMG UK's global strategy group, commented: "The opportunities for the Market are huge, but the skills gap needs to be urgently addressed. Market organisations can't wait for the next generation to grow up and fill the gap.
"The London Market must face the scale of the task and be proactive in training people and attracting new talent.
"As new business models and services start to emerge, market players will have to evolve their recruitment and talent management strategies, as well as their cultures, to remain relevant - and successful - in the future," Merrey added.