The newly formed CEA California Wildfire Fund is working with reinsurance broker Guy Carpenter
The California Earthquake Authority's (CEA) new risk transfer and reinsurance fund for the US state's wildfire risk is to be brokered by Guy Carpenter.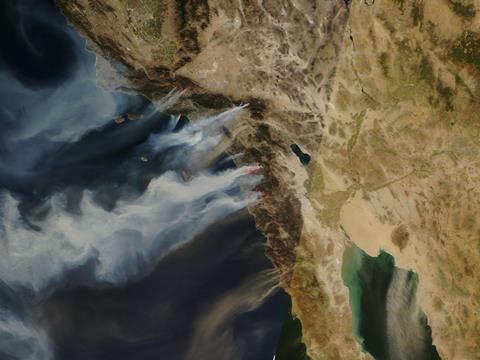 The reinsurance broker announced it would be providing strategic reinsurance and advisory services to develop a risk transfer and reinsurance strategy for the fund.
The new California Wildfire Fund is a response to the Golden State's wildfire peril, following 2018's Camp Fire, which went down as the deadliest and most destructive wildfire in the US state's history.
Earlier this year, California enacted its 2019 Wildfire Safety and Accountability legislation, which included a broad set of forms and programmes related to utility-caused wildfires in California.
In January this year power provider Pacific Gas and Electric (PG&E) filed for bankruptcy protection, facing tens of billions of dollars in liabilities following the role its equipment played in 2018's wildfires.
As a part of the US state's new legislation, the California Wildfire Fund was established, with CEA being assigned as the interim administrator tasked with getting the fund operational, under the direction of CEA's governing board.
CEA and Guy Carpenter will work to increase the fund's longevity and enhance its claims-paying capacity, the broker said.
Guy Carpenter's appointment follows its role since 2017 as reinsurance broker on the US government's Federal Emergency Management Agency (FEMA) National Flood Insurance Program (NFIP).
Since then the broker said it has assisted NFIP in structuring $4.32bn of risk capital to supplement its financial framework, including the first issuance of a catastrophe bond by a US federal government agency, through GC Securities.
"We are delighted to be selected as the exclusive reinsurance and risk transfer advisor for the California Wildfire Fund," said David Priebe, vice chairman of Guy Carpenter.
Broking services for the fund will be jointly delivered by Guy Carpenter's California offices in Glendale and Mission Viejo, the company said.
"We are looking forward to bringing our public sector and wildfire expertise to deliver results for this very important initiative for the residents of California," said Priebe.
"Guy Carpenter is focused on helping the public sector at the national, state and municipal levels. By leveraging private capital for public risks and innovative tools, we are able to help public entities mitigate risk and improve their communities," Priebe added.