Africa's re/insurance market is fearful at lost business going straight to China, amid the optimism about infrastructure projects, technology and economic growth closing the continent's protection gap. David Benyon reports
Intensifying re/insurance relationships between Africa's growing economies and the London market were the focus of an event held at Lloyd's yesterday.
The event featured speakers from Northern, Southern, East and West Africa.
"The aim is to get closer to reinsurance buyers and local reinsurers in these four regions," said Udai Patel, managing director of re/insurance broker Afro-Asian Insurance Services.
Transforming economies and strong GDP growth were cited by speakers as drivers for re/insurance growth.
"The whole of Africa is undergoing a transformation. Africa is still under-developed. Insurance penetration levels are very low by global standards," said Exhilda Lumbwe, CEO of Prima Reinsurance in Zambia.
"The most important catalyst for insurance growth is underlying economic growth in the region. Rising incomes create insurance penetration potential for life and non life products," Lumbwe added.
China's African "onslaught"
Amid all the optimism, the leading topic at the event's Q&A session was concern at China's "onslaught" into African economies.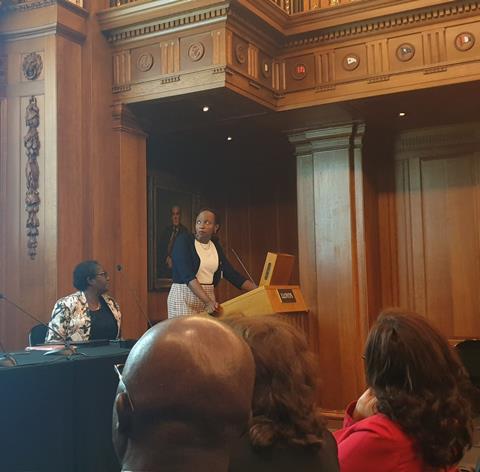 "Chinese companies are very active across the whole continent and we're still trying to figure out the impact on industry." said Hope Murera (pictured, right), CEO of Zep Re in Kenya.
"This onslaught is potentially dangerous [for Africa's local re/insurance markets]. We will have to fight it, together," she said.
Chinese investment brings finance for infrastructure projects necessary to further exploit African natural resources.
Africa's economy has a huge deficit of infrastructure spending required to fulfil its growth prospects, but falls short each year.
The insurance business associated with big infrastructure projects is largely going to China, with the consent of Africa's grateful governments.
African governments are prepared to sacrifice insurance in exchange for infrastructure, one audience member complained.
"That happens at the contract stage, saying the insurance and reinsurance is to be bought in China," said Murera.
Afro-Asian's Patel emphasised that the problem is often a lack of knowledge or consideration for insurance at the government ministries responsible for drawing up projects with Chinese investors.
"You have to explain to them the value of involving your own industry when assigning these contracts, rather than handing everything over to the investors, just because government wants that investment," Patel said.
Protection gap
Low insurance penetration affects every African country to varying degrees.
Protectionist rules for ceding business abroad can be seen as a barrier for international insurers, but Edirin Aghoghovbia, deputy managing director for Africa Re in Lagos, emphasised the opportunities.
"The same sentiment is expressed across West Africa across almost every country they have some form of similar local regulations," he told the Lloyd's event.
Aghoghovbia listed several billion-dollar government-led infrastructure projects that are underway in Nigeria, despite low commodity prices dragging the country's economic growth, with opportunities for London market reinsurers to support local carriers.
Retentions among those local market players are limited by capacity available, he stressed, so opportunities abound.
"Local players need the support of this market, but they would like to keep a share of the business," he said.
Nowhere is Africa's protection gap starker, however, than for its natural catastrophe risks.
Tropical cyclone Idai struck Mozambique in 2019, killing scores of people and creating huge economic damage, but causing few insured losses, owing to low penetration rates.
"Insurance is likely to be continually impacted by higher frequency of weather claims," Lumbwe said, referring to climate changing weather patterns.
An audience member noted that the bulk of Africa's economy is agricultural.
"That's the reason for the protection gap", they said, adding that "for the type of risks we're talking about , such as oil and gas business, there is no capacity problem there".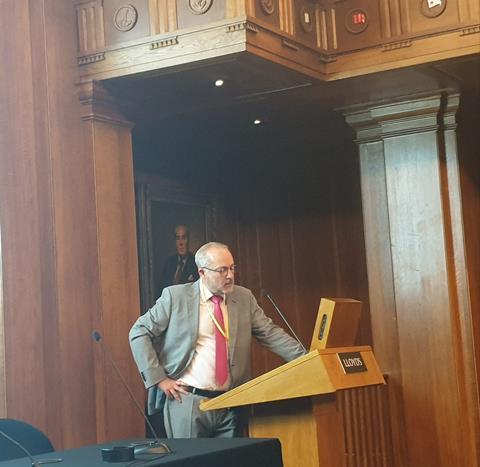 Youssef Fassi Fihri (pictured, right), CEO of Moroccan reinsurer SCR, said his company was pioneering nat cat insurance for Morocco, as well as focusing on specialty business, such as political risk policies for francophone West Africa's regional infrastructure projects.
"We need to design a French policy if Lloyd's wants to target Magreb and West Africa," he added.
Murera emphasised the growth potential for African cyber risk insurance.
"In some ways Africa has leapfrogged other economies," she said.
"Banks are not focused on setting up more branches because in recent years Africa has advanced far in mobile telephony and money transfers," she added.
Lumbwe spoke of the digital revolution transforming Africa's insurance buying norms (see video, below).