Gross written premiums in the first half of 2023 increased up 18% on the year before, reaching $1.2bn, with DIFC's re/insurance client growth led by new MGA licences.
The Dubai International Financial Centre (DIFC) has released interim growth statistics for 2023, showcasing its recent expansion as a re/insurance hub for the Middle East, Africa and South Asia (MEASA) region.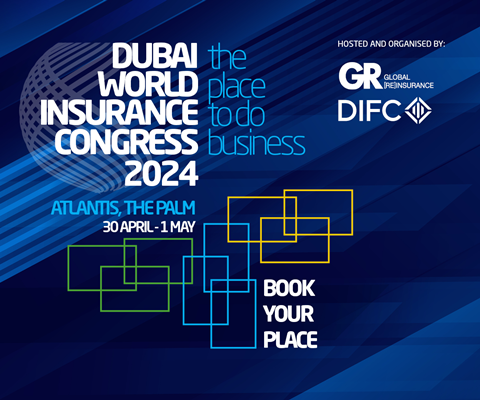 After an influx of new insurance and reinsurance clients, DIFC is on track for 20% year-on-year growth, DIFC said.
First half of 2023 gross written premiums increased to $1.2bn, up 18% per cent on the same point of last year and up 34% on two years ago.
The market saw a "record-breaking inflow of insurance peers over the past five years", according to the announcement. This included a 43% representation of managing general agents (MGAs) from across MEASA, contributing to the $2.1bn DIFC market.
Several new licences had been granted in recent months, according to the financial hub.
DIFC recently welcomed Hensley Wynne Furlonge Partners, MNK Re, Optio Re MENA, Swan Insurance Management Agency, Waica Reinsurance, and YOA Risk Services.
The newcomers are writing lines such as transactional liability, medical, personal accident, travel, property, engineering, liability and marine business.
Additionally, supporting the Centre's innovation ambitions, Virtual I Technologies, an Insurtech company from the DIFC Innovation Hub, has become the first insurtech to upgrade and obtain a regulatory licence from the Dubai Financial Services Authority (DFSA).
Virtual I uses an AI-based risk assessment tool and has moved to the next phase of growth to be a capacity distributor based on a digital gateway platform between capacity providers, global agents, local agents, and retail brokers.
The DIFC said the growth in new companies indicates a buoyant outlook for gross written premiums and workforce.
"DIFC has been delighted to welcome an impressive stream of new insurance and reinsurance companies during the first nine months of 2023, on track for 20% annual growth," said Arif Amiri, CEO of DIFC Authority.
"Today, we are home to more than 100 registered insurers, reinsurers, captives and insurance-related entities who are using our platform to achieve their growth ambitions," he said.
"Our world-class laws and regulations are comparable to other advanced markets across the globe and enable our insurers and reinsurers to confidently operate in the jurisdiction, tap into new growth opportunities in the region, and collectively contribute to the Centre's vision of driving the future of finance," Amiri added.
It also highlighted a survey conducted by Global Reinsurance, which showed high confidence in Dubai and opportunities in the region. DIFC and GR co-host the Dubai World Insurance Congress (DWIC), a re/insurance event that has grown to more than 1,100 delegates from 60 countries in 2023.
Next year's DWIC takes place at Atlantis, The Palm, on 30 April to 1 May 2024.
An independent survey conducted for GR during the 2023 event identified that 87% of respondents were confident in MEASA market opportunities.
The same study further highlighted that property, health, energy, cyber and liability lines of business hold most potential for the MEASA region.
Reflecting the growing sophistication of insurance markets and increasing demand for re/insurance, the survey showed that 85% of respondents were confident in 2023 renewals and the possibility of retaining clients.