COVID-driven awareness, population shifts and technological enhancements keeping health insurance market optimistic
The health insurance space is an "automatically" growing market due to various external factors driving adoption, according to a roundtable discussion on Day Two of the Dubai World Insurance Congress 2023.
The 'Global Health Insurance challenges and opportunities' roundtable featured:
Ingo Muschick Senior Partner, Synpulse Management and Tech Consulting;
Peter Samy, Regional Sales Director, Unitedhealthcare Global;
Ranjith Verghese, Senior Director, Business Transformation & Change Management, Amesa, Iqvia;
Sabastian Barretto, CEO, Infina Reinsurance Broking;
Sajith Kumar, CEO, UAE, Howden Insurance Brokers;
Dr Abdul Zahra A Ali Al Turki, CEO, National General Insurance Company Pjsc;
Ali F. Lutfi, Dubai Health Insurance Corporation, Dubai Health Authority; and
Laurent Pochat-Cottilloux, CEO, AXA Life And Health Reinsurance Solutions.
Growth spurt
"Health is an industry that is automatically growing right now," said one speaker. "This is because society is growing and also aging, so the industry does not need to worry about growth."
Another panelist noted that the expansion of the middles classes in several countries across the global also presents a growth opportunity for the health insurance industry.
"There is also a very large expat [expatriate] movement – especially in places such as here in Dubai – where people have disposable incomes and require their own health coverage."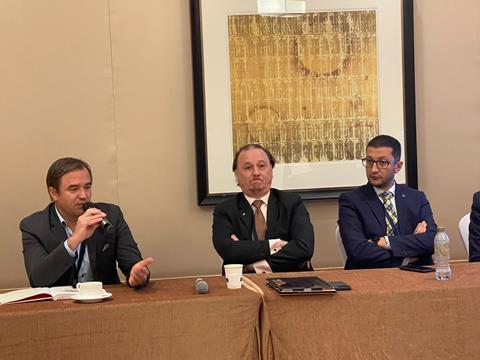 From sick care to health care
One panelist noted that the current health landscape is one filled with a vast 'disease burden', taking place across various ailments.
"For many emerging countries, these are the typical ones – diabetes, hypertension, cardiovascular issues," the speaker said.
"The opportunity is there, but how do we move from sick care to health care? It is a classic cliché, but how do you make that happen? There is preventive care that can be done, which is a large opportunity [for the health insurance industry]."
One panelist stated that the expansion of data has made healthcare more predictable: "We are equipped to predict things much earlier and that makes preventive much more possible."
Another panelist stated that 80% of healthcare problems can be solved by a GP and there is no requirement to visit a specialist: "Solving that problem can be achieved with a hybrid model where we use more technology."
It was highlighted by the panel that medical technology today enables the remote monitoring of patients, including having early warning systems if there are any problems.
"Technology cannot replace the personal touch of seeing a doctor you have known for many years, but technology and data can be combined to create a magic solution where you retain that personal touch, but technology is used so people are more proactive than reactive [about their health]," said a speaker.
COVID impacts
While the COVID pandemic was greatly disruptive to several elements of the health insurance space, it has also opened up new possibilities.
"The COVID-19 pandemic has raised awareness of the need for private healthcare," said one speaker. "It shocked many markets by showing how quickly public health systems get overwhelmed."
Another panelist stated that COVID has led the industry down a new technological path and made people more comfortable on virtual meetings.
"We all spent time during COVID on the likes of Teams and Zoom. This has created a new play for technology companies, some of which will be funded by insurance. There has been big funding of new start-ups [in this space]," the panelist said.
"In Germany, for instance, there are tele-medicine services now which have helped with gatekeeping at the beginning [of treatment]. This ensures there is some steering and not just a random consumption of health services."
Fighting medical inflation
One panelist stated that "we should all be very worried about the ongoing medical inflation".
"Medical inflation in most markets around the world is around two to three points above general inflation every year – year after year. So inevitably, the products become less affordable.
"Look at the case in the US, which spends around 18% of GDP on healthcare and the products are terrible. There are super high deductibles, low coverage and it is still very expensive."
The panelist said that one solution is people avoiding hospitals. Many mature markets have had a hospital-centric healthcare model since the 1950s, but "we need to be more focused on primary care and on gatekeeping [care] through tele-medicine [consultations]," they added.
Young and developing
Amongst the various opportunities in health, demographic shifts are also presenting their fair share of challenges.
One speaker noted that across Asia, Africa and the Middle East, there is now a very young population: "The growth of their populations is so fast, that it is presenting a challenge for those countries.
"Especially in the underdeveloped or emerging countries in those regions, the major challenge of that young population in terms of health is being able to keep health insurance affordable."