Local reinsurers in African countries face the handicap of sovereign credit ratings below investment grade, affecting their own ratings and business options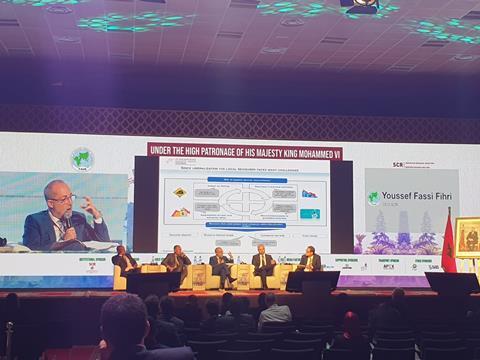 The credit ratings dilemma facing African-domiciled reinsurers was a sticking point at the FAIR 2019 conference for Afro-Asian markets, during a panel debate focused on the economic barriers facing the region's re/insurance markets.
Oumar Bâ, used the preprandial panel discussion at the Marrakech event to criticise the ratings systems of AM Best and the other credit rating agencies for putting a brake on African reinsurance growth by limiting local market reinsurers' ratings to the sovereign ratings of their domicile countries - something AM Best disputes.
"I say to the rating agencies that maybe they should re-examine their approach," said Bâ, who is Continental Re's CEO for the 'CIMA' region made up of 15 francophone countries in Central and West Africa.
"Most of the business that arrives in our continent, the investors are from the UK, France, US or Asian countries. They want 'A' rated business, which the local market cannot provide to them. Our reinsurance companies cannot get that," said Bâ (pictured, right; seated far left).
"In the next few years all local reinsurers will try to get a better rating, which will take time. Should these companies all change their domiciles that means capital flight and human capital flight," Bâ warned.
"The sovereign rating from AM Best can be criticised at this level. Otherwise it is up to us in Africa to create our own independent rating agencies familiar with our trade to get better ratings," he added.
[ UPDATE in response from AM Best: AM Best does not produce sovereign ratings and therefore by definition they cannot provide such a cap on our company ratings. Neither do the sovereign ratings of the other rating agencies provide such a cap. We agree it makes little sense to cap and can provide examples of when we have produced re/insurers ratings above their domicile's sovereign rating. ]
In recent years the sovereign rating of Nigeria has slipped further into the 'B' range, while Moody's is the only rating agency to keep South Africa, the continent's biggest insurance market, above "junk" status.
Only two other African countries are rated at (or on the edge) of investment grade: Botswana and Mauritius.
Continental announced it would shift the domicile of its holding company from Nigeria to Mauritius (rated B2 and 'Baa1' by Moody's, respectively) in December last year, after getting shareholder approval for the restructure.
"In Africa I believe there are different leagues [for ratings among reinsurers]," Bâ said.
"The big international reinsurers get a credit rating of 'A' or 'AA' but there is only one African reinsurer with an 'A'; most are rated 'B'," he continued.
Speaking on the same panel, Kamal Tabaja, chief operating officer at Bahraini-based regional reinsurer Trust Re, echoed the frustration at sovereign and regional political factors constraining regional reinsurers.
"There is a lot of turmoil, politics, geopolitics, economic issues, and volatile sources of income from oil and gas in the region's markets," Tabaja said.
"We are not split away from those influencing factors and that is a challenge when trying to approach other markets when wanting to transact business," Tabaja added.
Bâ encouraged African reinsurers in the region to "open their doors" to credit rating agencies, to demonstrate the transparency and corporate governance standards, as well as financial strength, necessary for high scores.
"If you want to compete with major reinsurers you need that rating. Those that do not only retain 5% of their business," he said.
Bâ explained that his company is focused on improving its credit ratings and gaining an 'A' rating to do more international business.
"If you change countries that you immediately get the rating, but after moving our headquarters we are working on our rating with the support of AM Best and other rating agencies. We're aiming for international markets through a better rating," Bâ added.
For a Q&A with Africa Re CEO Corneille Karekezi, addressing issues of regional reinsurance, click here.