It follows a tip-off that Probitas1492 is insuring the Adani Carmichael's thermal coal project rail line, haulage operation and port
Activists from Coal Action Network and Money Rebellion have held a rally outside the Probitas1492 London head office, in what they say will be an ongoing campaign to convince the Lloyd's syndicate to rule out renewing insurance for the project in 2023.
It follows a tip-off that the syndicate is insuring the Adani Carmichael's thermal coal project rail line, haulage operation and port in Australia, a project which has been controversial from the start.
Due to the nature of the coverage written at Lloyd's, more than one syndicate may be involved. It is understood that other managing agents yet to comment publicly on their involvement include Barbican, Hamilton, Markel, Renaissance Re, SA Meacock and Starr.
It comes against a backdrop of Lloyd's of London marketplace policy that, as of 1 January 2022, asks syndicates not to take on new thermal coal risks. 45 major insurance companies, including 28 that manage Lloyd's syndicates, have ruled out any underwriting for the Adani Carmichael coal project. This includes nine of the ten biggest syndicates at Lloyd's.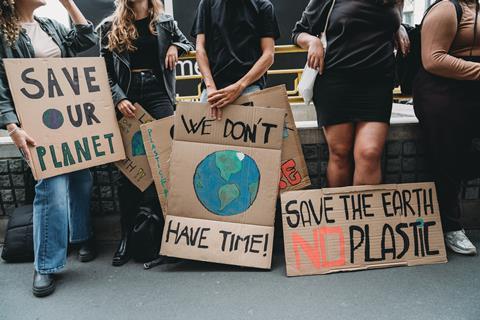 "Climate-wrecking coal mine"
Lucy Porter from Money Rebellion said "The news that one of the biggest carbon bombs on the planet is still being insured through Lloyd's of London is shocking. This show's that all their talk of sustainability is a sick joke.
"Probitas1492 must immediately commit to not renew their insurance of Adani. Lloyd's need to get real about climate breakdown, take real action and stop squeezing every last bit of profit they can from fossil fuels.'
Set to be the biggest coal mine in Australia, Carmichael would produce enough coal over its lifetime to emit 4.6 billion tonnes of CO2 emissions, equivalent to over ten years of the UK's annual greenhouse gas emissions.
Pablo Brait, campaigner, at Market Forces in Australia said:"The Carmichael coal mine is one of the most controversial projects in Australia's history. It is being contested by Traditional Owners who have not given their consent. It will drain the region of billions of litres of water per year, putting agriculture at risk.
"This disastrous coal mine is increasing industrialisation in the already distressed Great Barrier Reef World Heritage Area, and it will fuel worsening floods, heatwaves and bushfires.
"The Carmichael operations are paving the way for more climate-wrecking new coal mines in the region, and its dirty coal is being used by Adani to expand its fossil fuel burning activities in India."
Several syndicates which have been known to have provided insurance for Carmichael previously have backed out under civil society pressure.
Lloyds of London, a member of the Net Zero Insurers Alliance, stated in 2020 that it was asking its managing agents to not provide any new cover for coal-fired plants, coal mines, oil sands and Arctic energy exploration from 1 January 2022.
Market Forces Australia put the information of involvement with Adani Carmichael's insurance to Lloyd's management via email in late October 2022 but has received no response.