Lloyd's has released the 150-page "Blueprint One" for the London re/insurance market's future transformation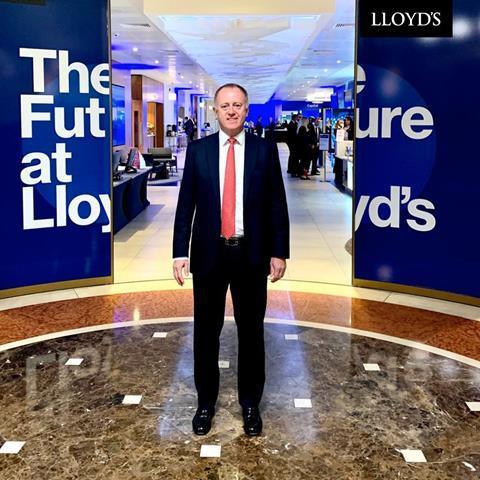 Lloyd's of London today launched its "Blueprint One", following months of consultation after its May 1 prospectus for CEO John Neal's Future at Lloyd's initiative.
Neal (pictured for today's launch) wants to reduce the cost of placing some non-complex risks from 40% of premiums to "somewhere approaching 25%".
To do this, Lloyd's would harness the forces of digitisation, automation, simplification of processes and end-to-end straight through processing, Neal told an audience at Lloyd's.
Neal said: "Over the next six months we'll be running what we're calling 'Transition', thinking through exactly how we will execute on the strategy," Neal said.
"We'll construct detailed business cases and by February 2020 we will share comprehensive plans for how we will take this forward."
Lloyd's published a timeline for implementing the blueprint, see below.
"We will be realistic and pragmatic, we will be flexible and collaborate with our market.
"We will phase the implementation of our plans and work in and adopt a carefully structured and managed approach to planning, execution and communication," Neal added.
The blueprint builds on the prospectus already announced in May, developing on its six key ideas (see 'The future Lloyd's ecosystem' chart).
The document said: "You told us we should build on the market's many strengths, while acknowledging that some of our historic, unique selling points no longer differentiate us as they used to.
"You told us to be more customer-focused. You told us that while we should be brave and bold in our ambition, we must phase our plans thoughtfully if we are to deliver it successfully," Lloyd's added.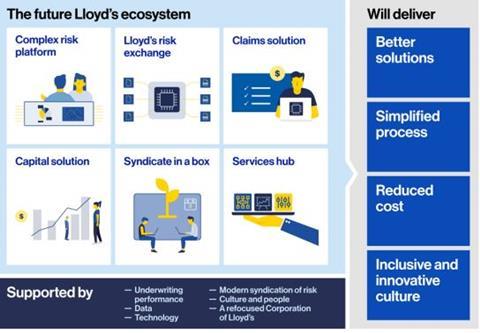 The City of London's subscription re/insurance market said it had used this feedback to redefine its value proposition to focus on strengths of choice, confidence, partnership, expertise, insight and ecosystem.
"The six solutions that we've published today in Blueprint One make up this new marketplace – and they are supported by some really strong foundations to ensure these plans become a reality," said director of performance management Jon Hancock.
Bruce Carnegie-Brown, chairman of Lloyd's, stressed the strong support Lloyd's had received during the consultation period before its blueprint.
"People feel very passionate about the Lloyd's market and really want us to succeed. That is important, because change of this scope and ambition can only be achieved if everyone supports the vision and is committed to delivering it," Brown said.
"Blueprint One is deliberately ambitious. We asked you last year how we should change, you told us to be bold. You said this is Lloyd's best opportunity to build a relevant and successful market for the future – and that we must seize it. Today we are," he added.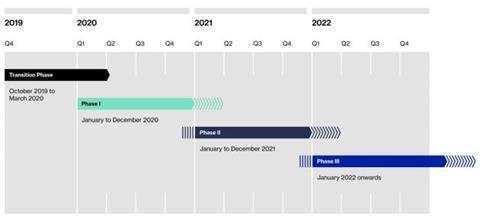 The new Lloyd's blueprint is online to download in full, here.
Praise from the LMA
The Lloyd's Market Association (LMA) lost no time in welcoming the launch of Blueprint One.
The market body said several of its feedback points had made it into the blueprint, including: a data-first approach to risk placement; a customer centric claims solution; modernised syndication; efficient processes for capital and new syndicates and focussed efforts on a culture which attracts the best global talent.
"Lloyd's ambition to be the most advanced insurance marketplace in the world is achievable, but will be thoroughly dependent on our ability to innovate and evolve our model so that we may continue to offer outstanding underwriting products and services to our customers," said LMA CEO Sheila Cameron.
"It is absolutely right that this is the primary focus of the Future at Lloyd's, which is why it has the broad support of the LMA and the wider market," she said.
Cameron continued: "I am reassured that many of the comments and questions posed in our response to Lloyd's have been addressed or acknowledged in Blueprint One. We look forward to seeing more detailed development of the six integrated solutions that will form the future Lloyd's ecosystem and help to shape the development of some of the supporting strands such as modern risk syndication.
"In the coming days and weeks, we will take due care and attention to digest, understand and reflect on the specifics and finer points of the Blueprint and begin a detailed engagement process with our members, so that we can continue to play an important part in executing the plan and shaping the future of our market," the LMA's CEO added.