Low penetration but high potential in India's re/insurance market should favour insurance technology, speakers said at an India-UK event in London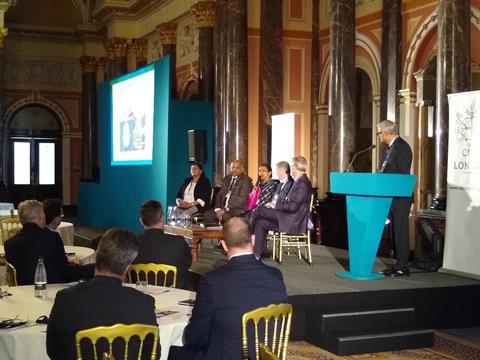 The Indian market offers unique potential for insurance technology, despite its current protection gap, speakers told the India-UK Insurance Summit held in London this week.
Infrastructure challenges, success stories in crop insurance, low overall insurance penetration, the rise of mobile phones, and India's growing middle class, were all cited as reasons for insurtech optimism by speakers at the City of London event.
"India has a unique opportunity to blaze a trail in the market terms of insurance penetration," said James Nash, CEO of reinsurance broker Guy Carpenter's international division.
India already has the largest government-run crop insurance scheme in the world.
"We take a lot of pride in these government schemes, which have been very successful," said Alice Vaidyan, chairman and managing director at state-owned GIC Re, India's largest reinsurer, with a 65% market share.
"We talk about insurance reaching the bottom of the pyramid, and crop insurance is a great success story," said Vaidyan.
Nevertheless, for the 2018 floods which affected the southern Indian province of Kerala floods, the protection gap was around 90%, even higher than usual for India's insurance market.
Speakers disagreed about whether India is a catastrophe-prone market. Nash called it a "catastrophe prone jurisdiction", whereas Vaidyan said "India has not considered itself as a cat country" but that this was being reappraised due to climate risk.
Nash suggested that for agricultural risk, India's lack of infrastructure in remote rural areas "can become a strength", in encouraging the use of insurtech within crop insurance claims handling.
The sharp rise in mobile phone usage in the country also provides opportunities for new products to penetrate India's relatively untapped insurance market, such as micro-insurance initiatives, with crop insurance again one of the leading opportunities cited.
"The challenge of distribution and reach is something that has to be tackled," said Manish Singh, economic minister at the Indian High Commission in London.
"The ecosystem for that has grown in India. There are about 100m mobile phones in the country, half of which are smart phones," he added.
Vishnu Teja Chundi, CEO and co-founder of AssetVault, noted that beyond the rich top tier of society, which is open to existing products, to the increasing number of poorer workers moving to India's cities.
"The mobile phone can be a game-changer for several million people," Chundi said. "All the maids and drivers and watchmen that have migrated to city do not have proper life insurance. There is no product for them," he added.
Properly priced
India's $80bn insurance market, which includes around 50-60 insurers, has only 1% penetration for non-life, and 3% for life business, for India's sprawling 1.2 billion population.
Maurice Williams, managing director at Willis Re, noted that Indian insurance regulators have previously found it hard to square their sociopolitical responsibilities with sound economics.
"Social responsibilities are regarded as of equal importance to their financial and economic responsibilities," he said.
"Compensation restrictions make it difficult to compete, for example. The regulator has his or her work cut out," Williams added.
Vaidyan and Nash agreed that a focus on technical pricing adequacy, as well as proper terms and conditions, would need to be at the core of future state-private insurance collaborations.
"Government has realised that for any scheme to be sustainable, you have to have the right actuarial pricing," said Vaidyan.
Actuarial pricing can create a framework for growth, Nash suggested.
"Growth is a given in this market. The challenge is to be able to support that growth and for that growth to be profitable," Nash said.
Fungible capital
The ability of capital to be quickly moved, deployed and replenished will be vital in realising India's growth potential, Nash emphasised.
"The fungibility of capital is important. The market needs access to capital," said Nash.
"We don't have the capital at the moment within the country to sufficiently support growth."
While steps towards replacing foreign direct investment rules have improved the situation, a market of state-owned firms and private joint ventures is not enough, and requires companies going public through the initial public offering (IPO) process.
"The IPO process is bringing in different stakeholders. That marks a pivotal moment within the Indian insurance sector," said Nash.
Public-private partnerships are "normalising the industry" in India, he suggested.
"It's moving slowly into private sector, and that's where fungibility of capital will come in the future," said Nash.
Williams noted that GIC's role continues to be important in ensuring a smooth transition, as India's market both grows and liberalises.
"If the domestic market was without a national champion on the scale of GIC, it would struggle to develop as quickly or as smoothly as it has to date," said WiIliams.
"GIC's role within that market cannot be underestimated, acting as a moderator between global market mood swings and supporting the Indian market as it develops," he added.