Insurance law firm recently added former Lloyd's CEO Inga Beale to its board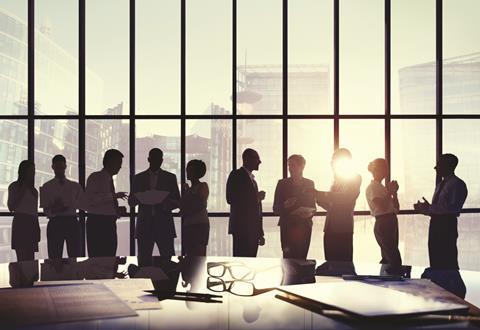 Legal firm Clyde & Co has shared some 37 predictions for next year, ranging from China to climate change, and Brexit to blockchain.
The law firm has been publishing predictions – attributed to various Clyde & Co partners – to its site and social media for every working day of December.
This month Clyde & Co also announced the appointment of two independent board directors to its board for the first time.
Beale & Thornton hired
Former Lloyd's of London CEO Dame Inga Beale and former Grant Thornton US CEO Stephen Chipman join Clyde & Co's management board on 1 January 2020.
Beale said: "Having worked in the insurance market over the course of four decades, joining the largest insurance law firm in the world represents a natural next step for me.
"I feel I can provide a client-side insight that will benefit Clyde & Co's management operations as well as the day-to-day work the firm does with clients."
Peter Hirst, senior partner at Clyde & Co, said: "Inga and Stephen's appointments to our board are a significant move for us and send a very strong message to our clients that we are committed to placing their needs and interests at the heart of our decision-making.
"Inga will play an important role, supporting our drive to materially improve diversity and inclusion across our firm to ensure we can offer clients the diversity of thought, talent and skills that they increasingly demand," Hirst added.
2020 vision
The law firm's predictions for 2020, along with their individual sources, appear below.
1. Insurtech collaboration between insurers and healthcare providers will transform healthcare experience Joyce Chan, Hong Kong
2. China AV infrastructure set to redefine motor insurance Michael Cripps, Chongqing
3. Noise around silent cyber set to get louder in Germany Kathrin Feldmann, Dusseldorf
4. MGA market will rebound in 2020 as Lloyd's reforms take root Jennette Newman, London
5. Insurtechs will start a revolution in the Brazilian insurance market Stirling Leech, Rio de Janeiro
6. UAE life insurance sector braced for fundamental shake-up in 2020 Wayne Jones, Dubai
7. Continental European D&O markets will harden in 2020 Henning Schaloske, Dusseldorf
8. Micro-insurance industry in South Africa set for take-off in 2020 Ernie Van Der Vyver, Johannesburg
9. 2020 will be a turning point in Lloyd's history James Cooper, London
10. UAE to get a unified financial services regulator Peter Hodgins, Dubai
11. A new era is dawning for disputed insurance claims in the UAE Mark Beswetherick, Dubai
12. Inquiry will throw spotlight on child migration and independent schools in Scotland Graeme Watson, Edinburgh
13. Scotland's compensation system tips in favour of the claimant Gordon Keyden, Edinburgh
14. The SMCR and FCA conduct rules could create problems for London Market firms Nick Elwell-Sutton, London
15. Proposed enhanced powers for pensions regulation to impact D&Os in 2020 Laura Cooke, London
16. Fintech: revolution to evolution? Karen Boto, London
17. The issue of liquidity mismatch will be under the investor and regulatory spotlight in 2020 James Cooper, London
18. Number of traditional South African intermediaries will fall Nicole Britton, Johannesburg
19. California Consumer Privacy Act: Is it covered? Kathryn Ashton, San Francisco
20. Look out kids, the times they are a changin' Jeff Ellis, New York
21. Arbitration clauses will continue to dominate in reinsurance contracts Michael Knoerzer, New York
22. The Internet of Things (IoT) will see an increase in regulation and self-regulation Prachi Shah, Montreal
23. Brexit, in any form, will create policyholder distress Yannis Samothrakis, Paris
24. Whiplash reforms will drive fraud into other Casualty lines Damian Rourke, Manchester
25. Despite market correction, Cannabis 2.0 will bring huge opportunities for insurers in 2020 Trevor McCann and Prachi Shah, Montreal
26. D&O insurers and brokers face a rocky road ahead Mark Sutton, London
27. 2020 is the year climate risk will go mainstream Wynne Lawrence, London
28. Climate change risks will lead to innovation in the US insurance market Vikram Sidhu, New York
29. Boards of Australian insurance companies to come under closer scrutiny Avryl Lattin and Yvonne Lam, Sydney
30. Climate change will heighten focus on parametric insurance in Australia Dean Carrigan and Johann Spies, Sydney
31. Insurers operating in Australia can expect another layer of consumer protection Avryl Lattin and Ashley Etheredge, Sydney
32. Remuneration requirements for insurers will be a hot topic in Australia in 2020 Dean Carrigan and Rishiv Rathore, Sydney
33. US insurers will seek to engage in IBTs and corporate divisions Vikram Sidhu, New York
34. South African directors to face increased legal scrutiny in 2020 Lee Astfalck, Johannesburg
35. Conditions right for employee stress and harassment claims to rise in 2020 Judith Martin, Manchester
36. Blockchain breaks out and enjoys widespread adoption Cheryl Yakey, New York
37. New sheriff in town for insurance intermediaries in Hong Kong Simon McConnell, Hong Kong