An independent advisory group will be set up at Lloyd's of London to ensure the re/insurance market takes the right actions
Lloyd's of London has admitted that 500 people in the market have witnessed sexual harassment.
And to tackle the problem, it today announced a series of actions it will take to make the Lloyd's market a place where everyone can feel safe, valued and respected.
These actions are in response to the findings of Lloyd's culture survey of 6,000 respondents which revealed the extent to which sexual harassment has been witnessed in the marketplace, it claims to be the largest of its kind ever conducted in the insurance sector.
It was commissioned by Lloyd's in the wake of sexual harassment reports in the Lloyd's market, and four key themes have emerged.
Further measures will be rolled out over the course of 2019 and 2020 to address these four key themes, including promotional campaigns intended to increase confidence in speaking up, and awareness of mental health and wellbeing.
Lloyd's chief executive, John Neal, said: "I am determined that we create a working environment at Lloyd's where everyone feels safe, valued and respected. Cultural change takes time, but we have to accelerate progress and the measures announced today are intended to do just that."
Neal said last week in a BBC Radio Four interview that he was "devastated" by the results of the sexual harrasment report into sexual misconduct against women in the market.
Key themes:
The experience of women in the Lloyd's market is less positive: women scored more negatively than men across the piece, whilst one in five respondents do not believe people have equal opportunities regardless of gender.
Not everyone is speaking up as there is a perception that they would not be taken seriously: Around 8% of all respondents had witnessed sexual harassment over the previous 12 months, however just 45% said they would feel comfortable raising a concern.
The wellbeing of staff: 40% of survey respondents felt under excessive pressure to perform at work, whilst 24% had observed excessive consumption of alcohol during the past 12 months.
Leadership on the above issues: 22% of respondents have seen people in their organisation turn a blind eye to inappropriate behaviour.
Programme of measures
Lloyd's announced its "programme of measures" today which builds on the five-point action plan that was put in place earlier this year and is intended to further accelerate the pace of change.
These actions include:
A "Gender Balance Plan", setting clear and measurable targets for improving the representation of women at senior levels within the Lloyd's market, based on the principles set out in the Hampton Alexander review.
Setting "Standards of Business Conduct" requiring every person and every organisation operating in the Lloyd's market to act with integrity, be respectful and always speak up
Introducing a "Culture Dashboard" to closely monitor progress in the Lloyd's market against key indicators of a healthy culture, to be published in Lloyd's annual report.
Independent advisory group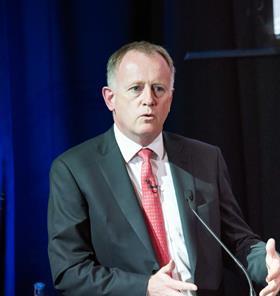 To ensure that Lloyd's is taking the right actions it will be appointing an independent advisory group comprised of leading experts with experience of successful cultural transformation.
This group will be chaired by Fiona Luck – a Lloyd's board member and non-executive director responsible for talent and culture.
"The vast majority of people working at Lloyd's are as committed as I am to taking the action we need to drive measurable results," said Neal.
"Creating an inclusive marketplace is a priority for Lloyd's and crucial to our long-term success," he added.
Calls for change
In response to the findings, Sheila Cameron, the Lloyd's Market Association's (LMA) chief executive, released a statement.
"The Lloyd's market is world-leading in terms of the talent we attract and the opportunities our innovative and dynamic work environment provides.
"Although the issues highlighted by the survey are not exclusive to this sector, we must be decisive and thorough in our response, firstly because it is the right thing to do and secondly, failure to act will damage our ability to attract and harness the talent that is so vital to the future competitiveness and success of the market.
"I have seen the market change in a positive way in recent years, but this is a journey and there is still some way to go. We must ensure that the actions we now take together will help to regain the trust of the victims of harassment and bullying and will ensure that our market place is equally positive for women and men.
"We are fully supportive of the actions that Lloyd's has announced in response to the survey. In addition, the LMA Board has today committed to a new initiative that will enable their personal involvement as market leaders in responding to, and eradicating, inappropriate behaviours in the marketplace."
Broking industry body the London and International Insurance Brokers Association (LIIBA) also issued a statement.
"This report from Lloyd's comes at an important time," said Christopher Croft, LIIBA's CEO.
"There is no place for bullying or harassment in our marketplace and the expectations are rightly that our market will work collectively to address incidence of poor behaviour," he said.
"London's broking community takes this initiative very seriously and LIIBA is working closely with our members and business partners to take concrete steps for improvement. As part of this, LIIBA has run a number of well-attended workshops on conduct in the workplace and inclusive behaviour," he continued.
"This sort of support is particularly important for our smaller members who don't have the infrastructure of the larger brokers," Croft added.
Jennette Newman, President of London FOIL and a partner at legal firm Clyde & Co, also commented on the report's publication.
"The Lloyd's culture survey shows how badly change is needed if the market is to thrive. Over a fifth of people turning a blind eye on inappropriate behavior is unsustainable. Fewer than half feeling able to raise concerns, or confident they will be heard smacks of the last century not this one," Newman said.
"I hope the Lloyd's culture survey sets a baseline for much-needed improvements in gender balance, standards of conduct and culture overall. Dashboards and targets are controversial – they can encourage a tick-box mentality and we need to move on from that. However, I suspect for Lloyd's and the deep-rooted cultures and complexities of the market, this is necessary. It is somewhat hard to measure and accelerate progress without it," she said.
Newman added: "Attracting and retaining a broad and deep talent pool within the market is fundamental if Lloyd's is to survive the competitive headwinds that it faces."