Maritime sector and insurance technology experts converged on Windward's inaugural Sea: The Future 2019 conference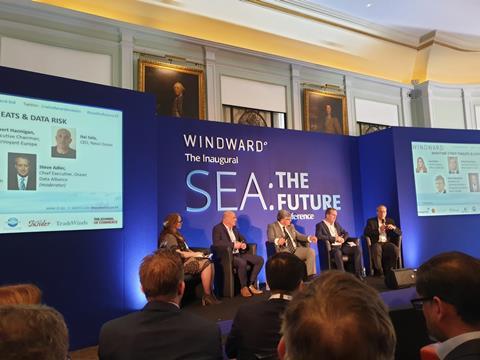 Maritime sector businesses are focused on reducing emissions to meet tough new regulatory requirements, meaning that their cyber risk worries are not anywhere near top priority, panelists told a maritime technology event held in London today.
That was the buzz from Windward's "Sea: The Future" conference, held in London's Trinity House.
Windward is a technology services firm using satellite and other data together with artificial intelligence to spot patterns in shipping, detecting risky behaviour for insurers, and illegal activities for government and military clients.
The firm was set up with backing from retired US general David Petraeus, while former BP CEO Lord John Brown joined its board last year, and headlined the Trinity House event.
Speakers at the conference pointed to new and tougher emissions targets for shipping firms to reduce their carbon footprint set last year by the UN's International Maritime Organization (IMO).
"The last thing on your mind is cyber, I'm afraid," said Harry Theochari, Maritime UK chairman and head of transport law at Norton Rose Fulbright.
"The environment will continue to take centre stage because the IMO is very focused on it," he said,
The IMO has however put "high-level" cyber requirements in place for Safety Management Systems (SMS) that will be implemented by 2021 into the UN body's Safety of Life at Sea (Solas) requirements.
"It's high level and pretty convoluted," Theochari said, noting that other bodies such as the International Chamber of Shipping and various governmental and industry stakeholder groups have been working to provide more detailed guidance.
"By January 2021 SOLAS is making it absolutely mandatory for your SMS systems to be fully cyber compliant," said Theochari.
Collateral damage
The shipping sector, Maersk in particular, was badly affected by the June 2017 Russian state-sponsored Not Petya malware attack, masquerading as ransomware but designed to wipe systems and cause maximum disruption.
That attack was targeted at Ukrainian IP addresses but the shipping sector's global characteristics meant it was "collateral damage", said Robert Hannigan, executive chairman, Bluevoyant Europe, speaking on the same cyber risk panel.
"Maritime is subject to the same threats and actors as other sectors," he said, noting that shipping's relationship with the energy sector made it subject to "particular leverage" in matters of government-sponsored hybrid warfare, such as state-sponsored cyber attacks.
However, the focus on high profile attacks, such as Russia's attacks on Ukraine, on Estonia's banking infrastructure in 2007, and on the US electoral system in 2016, leave the higher frequency lower impact attacks relatively neglected, Hannigan emphasised.
"We focus too much on the low risk high impact attacks [such as NotPetya], for which we need to rely on governments to defend us," said Hannigan.
"More focus is needed on the high risk, low impact almost daily cyber attacks on ports and shipping," he added.
For major cyber attacks, the sector will remain heavily reliant on government, law enforcement, intelligence agencies, and specialist cyber experts in the private market, noted Line Dahl, chief customer officer at marine insurer Gard.
"We don't have the confidence to save the world alone. We're pretty dependent on working with the cyber experts," she said.
Too many cyber attacks are being claimed under traditional policies, even when companies have cyber coverage in place, suggested Itai Sela, CEO of Naval Dome.
He suggested insurers need to demand more information when underwriting shipping businesses about the number of prior claims made for cyber attacks, under the guise of whatever policy.
Doubts about cyber insurance exclusions persist, and have been furthered by recent legal cases, Hannigan emphasised.
Insurers are tightening up their terms and conditions, putting exclusions into place which mean insured firms need to be seen to be taking the right steps to mitigate cyber risks.
"Not doing the right thing is becoming a cyber exclusion," Hannigan said, pointing to the importance installing the latest patches to update software in use throughout large businesses.
Technology v insurance
The insurance industry is prepared to accept that risk prevention technology will nudge insurance out of areas of marine risk that are currently insured, according to Tom Hutton, managing partner at XL Innovate.
Hutton said insurance technology's rise had been remarkable in recent years, with a "huge opportunity" for insurtech firms and their backers to address risks "related to everything we do linked to the wider economy".
Preventative risk technology, including predictive analytics, would lead to some currently-insured risks, not being underwritten in future, while providing other opportunities that insurers do not already underwrite, Hutton explained.
"Insurtech will lead to a number of risks not being insured in the future that were insured in the past," said Hutton.
In essence, insurance innovation may end up in shipping companies buying less insurance.
"Absolutely, and that's okay," he said. "We should not just represent a function of protecting the status quo, but of making it better for everybody."
Despite many successful startups, he suggested the needed shakeup of the insurance distribution model has yet to happen.
He compared the situation to that faced a decade ago by airlines worried about online pricing sites affecting their e-commerce business models, noting that airlines have responded effectively and, for the most part, not gone out of business.
For marine insurers, he suggested another innovation was sorely needed: the ability to better track the insured contents of shipping containers as they cross the world's oceans.
"The insurance industry would dearly love to know where a package is on a container ship somewhere in the world," Hutton said.
Transmission technology that might be used to keep track of cargo gets disrupted by metal containers, he noted.
"That is a big problem today. Something like 1,400 containers are lost at sea each year. That's a huge opportunity to solve," Hutton added.